How Web Augmented Reality is going to be the next big thing in 2021?
We all are fond of magic! Aren't we? In this article, we will see how Web Augmented Reality will bring technical magic to our screens. With increasing, advancement in technology users is raising bars of the online experience. Augmented Reality allows businesses to connect to customers and employees in more than one way.
Augmented Reality technology has evolved a lot over the years. With expanding reach in industries we have also witnessed the introduction of new tools to enhance augmented reality experience. The key tech players such as Google, Microsoft, Apple are investing in this immersive technology. The AR market statistics reveal, "The Augmented Reality Market Forecast is Expected to hit $70-$75 billion in revenue by 2023."
What is Web Augmented Reality?
Web Augmented Reality allows users to get an AR experience on browsers. Users can access through a browser rather than an app. With accelerating usage of Augmented Reality we can see WebAR in the mainstream in 2021. The technology has gained lots of attention in its early days, but a lot needs to improve yet. However, it is a new concept with limitless potential to upscale the business and enhances the user experience.  Before Web AR all those cool AR experience varying from Pokemon Go to IKEA was app-based. The native AR app has limited chances of marketing, WebAR is a highly useful tool for marketing. WebAR offers an immersive experience using technologies like WebRTC, APIs, WebGL.  Let's have a glimpse of-
What web Augmented Reality has in store for us: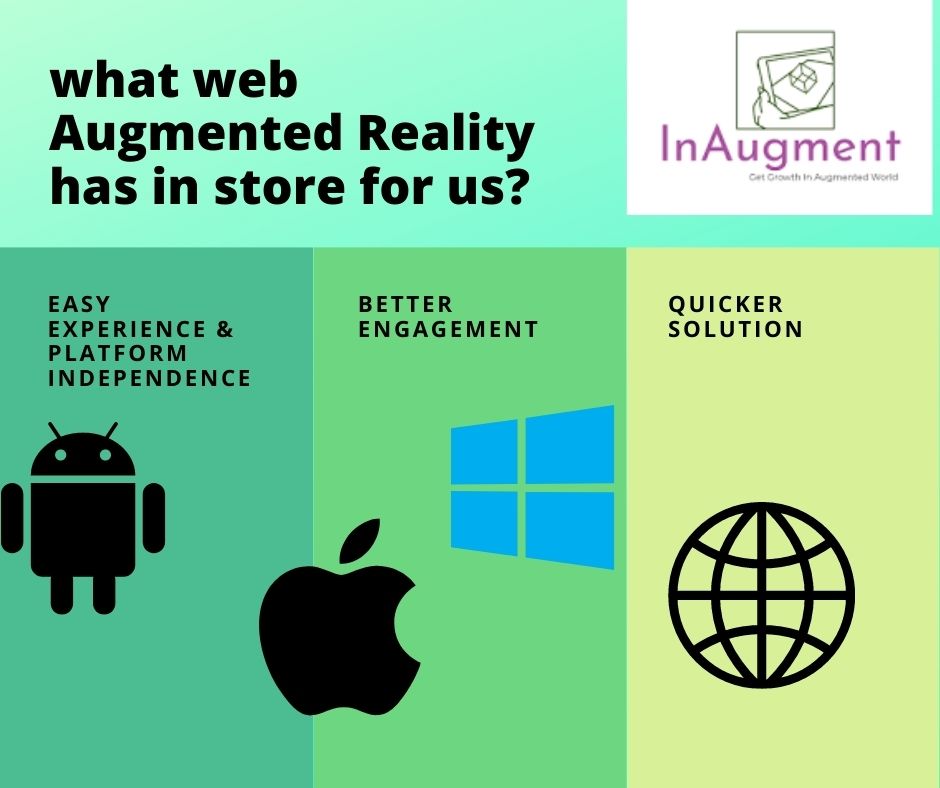 1.
Easy experience:
Web Augmented Reality is easy to access. With just a click you can have an augmented experience of products.
2.
Better engagement:
Augmented Reality is a buzzing word. People are not likely to install an app for one augmented marketing experience but are up for just clicking and have an AR experience. This will lead to higher engagement.
3.
Quicker solution:
You can quickly launch your Augmented idea in the market. It offers a faster development process. Users can instantly get an experience as well, just by clicking on the link.
4.
Platform independence:
With the increasing usage of multiple platforms, companies are opting for ways that could help to target the audience on all platforms in a single attempt. Here, Web Augmented Reality is the solution. Users using any platform such as Android, iOS across any device can have a Web AR experience. This is one of the most useful benefits of Web AR.
What is web augmented reality useful for?
·
Help potential buyers to visualize objects:
Web Augmented Reality offers better visualization to potential buyers. Your visitor can just use the link or scan the QR code to get a 3D view of the object. It helps to assess the object clearly and be certain about looks and features before buying.
·
Deep understanding:
Web Augmented Reality offers a complete angle view of the product. Users can participate in marketing campaigns with more keenness to have a deep understanding of products using Web AR. You can easily make the visit on the webpage memorable using Web Augmented Reality.
·
Shows actual size:
Web AR has the feature of detecting the actual size of the object. Users can know the actual size of products online using Web AR which was not possible until recently. This ensures a satisfying purchase.  
·
Quicker and timely reach to market:
The time of launch is most precious in business. The native app development is a long process, you cannot expect your recently popped AR marketing idea to reach to audience in less time. The development and then to get the app approved by the app store is a time-consuming process. Web Augmented Reality is a savior in such scenarios. You can take your ideas to market quicker using WebAR.
·
Affordable:
If you are looking forward to letting your user have an AR experience, and the cost is holding you back then Web AR is for you. You can integrate advanced features that might exceed the usual cost, but it will not be as high as developing a native AR app. Web AR is a cost-effective approach to effective marketing. Users can have a better experience with lesser expenditure.
·
The 5G wave:
The 5G wave will have a positive impact on Web Augmented Reality in 2021. High-speed internet connectivity leads to faster page load.
What constraints will WebAR solve for businesses:
Businesses aiming to target wider audiences are in search of solutions that eliminate platform and device limitations. With mobile AR earlier you had to develop applications for both platforms independently. This not only turned out to be a costly approach but also reduced the reach. Many of the users are not willing to go through the complex process of installing an app. With the help of web AR, your potential buyers can have on a spot immersive experience. This is the prime reason for businesses embracing this technology.
What additional features can be included in Web AR?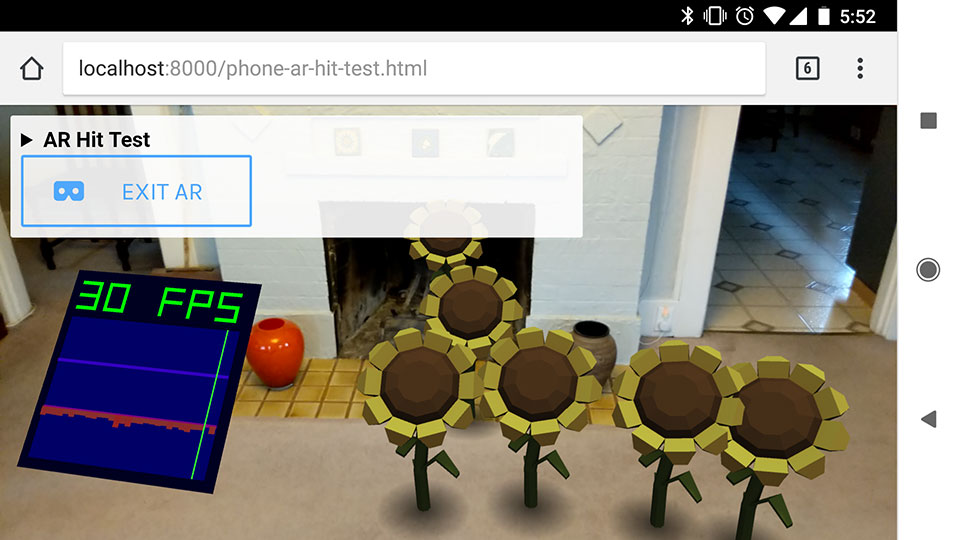 Google web ar (source)
Well, Web Augmented Reality is still in its initial phase, hence limitations. You can not offer an experience similar to mobile apps using web AR. Web AR is easily accessible but performance is better on an app. Due to limited storage, you can offer limited animations and interactive experience to your viewers. Web AR is accessed on the web page, a web page can get access to a limited part of the device whereas an app can get access to all parts of the device.
 A lot of features are yet to roll out, we can take full advantage of web Augmented Reality in 2021. The development of this dynamic technology depends on how the key players like Google, Apple are paying attention to it. Due to its amazing features and ability to use it immediately and conveniently, we are certain about its immense capabilities in upcoming years. An increasing number of brands will be adopting web AR in the next 12 months.


Post Views:
69

Credit: Source link