The First Apps to Install on Apple TV
Watch Game of Thrones without a cable subscription
HBO Max: Stream TV & Movies
For anyone who has wanted to watch HBO shows and movies without paying for cable.
HBO Now is a standalone HBO subscription service that lets you access all of HBO's content without a cable subscription. You'll get full episodes of hot shows like Game of Thrones, Veep, Silicon Valley, as well as whatever movies are in rotation for the month. If you're a sports fan, you can also view boxing matches and never miss out on the action. Additionally, there are extras and bonuses in HBO NOW (and GO for cable susbcribers) that let you get inside looks on your favorite shows.
Why we love it
We love HBO shows, but it has always been too expensive for a cable subscription as well as HBO, since it is a premium channel. Now you can cut the cord with cable television and just have HBO by itself. What more do you need?
For those who…
You love HBO but thought it was too expensive before.
You need to catch up on Game of Thrones.
Not for those who…
You don't care for Game of Thrones or other shows.
You still think it's pretty expensive.
The quintessential app for binge-watching
Netflix
For anyone who want to catch up on popular telelvision series and movies.
Everyone has heard of Netflix — it's the leading Internet streaming service for most of the hot shows and movies that you can't miss. A subscription for streaming starts at just $7.99 a month, with some pricier options if you have a 4K television and want higher quality streams. You can even go above that and get the DVD/Blu-Ray rental too, but it's optional. Netflix streaming has a lot of popular shows as well as original series that are worth watching. Plus, you can always find a decent movie to watch when it's movie night.
Why we love it
Netflix is the best way to pass the time as you binge-watch on original series or catch up on movies.
For those who…
You want original programming
You want to catch up on shows
You want Netflix and Chill
Not for those who…
You don't care for Netflix original programming
You don't like the library of shows and movies on Netflix streaming
You are tired of hearing "Netflix and Chill"
Watch live TV or on-demand shows on Apple TV with an easy-to-use app containing tons of options.
Sling: Live TV, Shows & Movies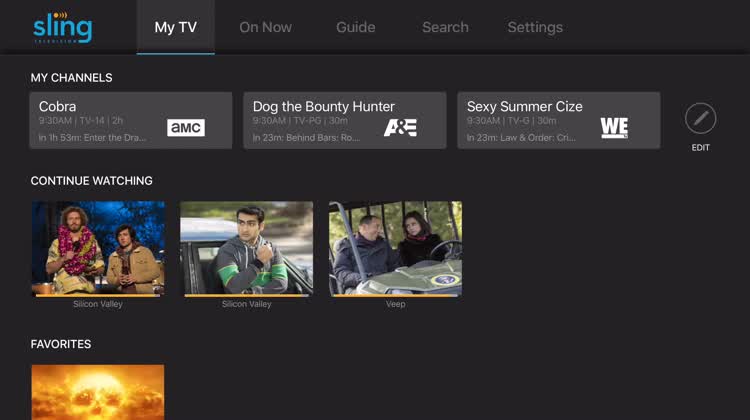 For those looking for an alternative to standard television services.
Sling TV is a solid option for watching the shows, sporting events, and channels you love on your iPhone or iPad. But, now you can check out Sling TV for your Apple TV making your favorite live television and on-demand shows only a click away.
Why we love it
Sling TV on Apple TV is a great alternative to traditional television services. The app is clean, crisp, and simple to use. The channel and show options are extensive with something for everyone in the house.
For those who…
You want an alternative TV option
You love easy access to your favorite shows any time
Not for those who…
You prefer your current TV provider
You are not interested in a paid service
Experience the secrets of our universe from your TV screen.
Solar Walk 2 – Planet Explorer
For those folks who want to see the universe from various angles and with a built-in soundtrack.
Doesn't everything about life deserve its own soundtrack? With Solar Walk 2, you can experience the world around us in stunning detail with an impressive soundtrack as well. You will see the International Space Station and the Hubble Space Telescope fly over the Earth in real time. Their models have been meticulously reconstructed from photographs and blueprints and you can study every detail in close-up.
Why we love it
One of the top-selling apps on the App Store, Solar Walk 2 continues to impress with each new update.
For those who…
You love space and exploration.
Are into discovery.
Want to know what's beyond the clouds.
Not for those who…
You want to keep your feet firmly planted on Earth.
Don't have time to experience the world.
Rather watch a film.
Watch ABC whenever you want with the official app
ABC – Live TV & Full Episodes
For those who like to watch ABC's programming
Whether you have basic television at home or not, the Watch ABC app is the best way to go when it comes to your favorite ABC shows, movies, and news. The Watch ABC app lets you get on-demand episodes from your favorite series, or you can even watch ABC live, without having to have cable. This means that you can catch the late night news or movies when they air on TV. There are also bonus clips for certain shows, in case you want more. Either way, the Watch ABC app is a great way to catch up on your ABC favorites.
Why we love it
ABC is one of the old, reliable television stations, and we are happy to be able to watch it whenever we have some time to spare. Whether it's the original programming, news, or movies, the Watch ABC app lets you do it all for free.
For those who…
You like ABC
You want a way to watch ABC live without cable
Not for those who…
You don't like what ABC offers in terms of content
You don't care about watching ABC live
Get caught up with this popular streaming service
Hulu: Stream movies & TV shows
For those who want to catch up on their current television shows.
With Hulu, users are able to watch new episodes just a day or two after they air on television. If you subscribe, you can get new episodes faster, as well as have a larger library available for your viewing pleasure. There are also several tiers of subscriptions, in case you don't want ads while watching your shows, so you'll have to pay up for that covenience. The collection of shows and movies on Hulu is pretty vast, and more content gets added every day due to licensing agreements and contracts ending with other services (such as Netflix). If you have Hulu and another service, then you're pretty much set.
Why we love it
Hulu has a ton of content with more additions added daily. New episodes get added in a timely manner so you are never too behind, and there are some nice original series.
For those who…
You don't care for Netflix's library.
You want to watch currently airing shows and get caught up.
You don't mind ads.
Not for those who…
You don't like ads (unless you pay for the top subscription.)
You are satisfied with Netflix.
You don't care about being caught up on currently airing shows in a timely manner.
Your NBC favorites now available at any time
The NBC App – Stream TV Shows
For those who enjoy watching NBC shows and want to watch anywhere
Binge on NBC's newest shows and classic hits — no TV provider login required. Sign in with your TV provider username and password to watch the latest episodes of ALL NBC shows the day after they air on TV – and even complete seasons of certain series!
Why we love it
Do you want your Must See TV? This is the Apple TV app for that.
For those who…
Love shows on NBC
Enjoy classic television programs too
Not for those who…
Not in love with NBC titles
Rather watch HBO
Nature never looked so good
Smithsonian Channel
Nature lovers will adore this free app from Smithsonian.
For those who live the great outdoors even when inside, this is the app for you. Featuring free and commercial-free videos, Smithsonian Earth is continuously updated to bring you the best that nature and wildlife has to offer.
Why we love it
There are plenty of free video apps on the App Store. Few, however, offer commerical-free videos.
For those who…
You love nature
Like freebies
Respect the Smithsonian name
Not for those who…
You don't like nature films
Prefer premium content
Haystack TV has you covered
Haystack Local & Global News
Want a curated news experience? Check out Haystack TV
Haystack TV is whatever you want it to be. Just set it up with your preferred categories of news and then watch it get video news of topics that you'd like to see. Over time, the app gets smarter and gives you better results depending on your preferences and likes. Haystack TV covers all types of news and even has fun extras like late night talk shows and movie trailers. Just decide the type of news you want to see, and then sit back and relax.
Why we love it
We really enjoy this app for its variety. Yes, you'll see the important stuff. But you'll also see fun content too.
For those who…
Like a curated news experience.
You don't want a hard sell.
You enjoy fun news too.
Not for those who…
You want news from bigger sources.
You are a traditionalist.
Enjoy magnificent artwork displayed on your Apple TV
Art Channel by Art Authority
For those who appreciate fine art.
Art Channel powered by Art Authority is the perfect Apple TV app if you enjoy viewing beautiful works of art. Channels include All-Time Highlights and Impressionism Favorites. You can browse through each piece or have them assembled into a lovely slide show. The app also provides a video option to view the collection with delightful classical music.
Why we love it
Art Channel powered by Art Authority provides the perfect backdrop for a dinner party or when you simply want to relax with a gorgeous array of fine art.
For those who…
You appreciate fine art
You enjoy viewing an array of artwork
Not for those who…
You do not care for fine art
You do not like artsy apps
A great way to rock out with music along with a dose of podcasts
Mixcloud – audio & dj mixes
For podcasts fans who also enjoy other music.
The top feature of the service allows users to create their own personalized radio comprised of a mix of DJ mixes, podcasts, radio shows and mixtapes. If you haven't heard of Mixcloud, its speciality is content from popular DJs like Fatboy Slim, Above & Beyond, and Avicii. That should definitely help spice up your normal podcast routine.
Why we love it
If you're looking for more than just the usual podcast app, Mixcloud should definitely be high on your list. While there are podcasts for pretty much everyone, the ability to build your own radio station with unique and diverse content is fun and exciting. And along with being able to access the content on your iPhone and iPad, the app looks great on the big screen of the Apple TV.
For those who…
Are interested in a multifaceted app that brings together podcasts, music, and more.
Follow specific DJs.
Not for those who…
You know exactly what podcast to listen too.
Don't care about music.
What better way is there to experience space scenes and streaming NASA TV than on a large screen?
NASA
For those who appreciate views of the Earth from space as well as streaming NASA TV.
If you enjoy the NASA app on your iPhone or iPad, then imagine what it would be like to view those streaming videos and amazing images from space on the big screen. Take a look at NASA for Apple TV and experience something spectacular.
Why we love it
With the NASA app on your Apple TV not only can you witness the spectacular views and images from space, but you can stay up to date with missions and check out streaming content easily.
For those who…
You enjoy the NASA app on iOS
You appreciate breath-taking views from space
Not for those who…
You dislike the NASA app or have no interest in it
You do not care to look at views from space
Catch your favorite sitcoms and dramas
CBS – Full Episodes & Live TV
For those who love watching CBS shows and broadcasts.
With a subscription to CBS All Access, you'll get unlimited access to your favorite shows like The Big Bang Theory, The Good Wife, Limitless, and more. You'll be able to live stream the CBS channel whenever you want so you never miss a thing, and catch up on episodes you've missed. If you're a big fan of the programming on CBS, then getting a subscription to this is worth looking into.
Why we love it
The app lets you get access to your favorite CBS shows, and you can catch up whenever you have some spare time.
For those who…
You like CBS
You don't mind paying a fee to get your CBS fix
Not for those who…
You don't like CBS shows
You don't want to pay the subscription fee
Thousands of top recipe sites converge into one yummy app
Yummly Recipes + Shopping List
For people who want a wide variety of recipes at their fingertips
Yummly is a feature-rich app that brings more more than a million recipes to choose from. No matter what your nutrition or cuisine preference is, this app has a wide variety of recipe choices for you. When you find your favorite recipes, you can save them within the app to your own digital cookbook, ready for you to go back to again and again.
Why we love it
The recipe displays in Yummly are beautiful, and the app makes it easy to find just what you're looking for. The dishes are intricately described, with perfectly easy-to-follow ingredient lists and instructions. What's really nice is the feature allowing you to "Yum" a recipe, saving it into your own personalized digital cookbook.
For those who…
You want lots of recipe choices
You like good food
Not for those who…
You don't enjoy good food
You don't use cookbook apps on your Apple TV
Watch FOX right now
FOX NOW: Watch TV & Sports
For those who enjoy the shows on Fox and want to watch anytime.
It seems that FOX has some pretty good content in terms of their own television shows these days, but the problem is that your schedule conflicts with the times that your favorite shows air. Don't worry though! FOX NOW is an Apple TV app that lets you watch new episodes of your current on-air favorites a day after they air, so you don't have to miss out for long. Plus, the app also has a back catalog of recent episodes so you can catch up with whatever you've missed on your own time. But you'll have to be fast — this stuff doesn't stay on forever.
Why we love it
FOX can have some great shows on the air, but it can be hard to keep up with everything the moment they air. The FOX NOW app lets you catch up with fresh episodes just a day later and you can even catch up with the latest episodes from the back catalog. It's a great way to stay on top of your favorites.
For those who…
You like FOX shows
You want to catch up with new episodes quickly
Not for those who…
You want a full library of episodes from every season
You don't like FOX programming
Credit: Source link