5 Essential Elements for Developing and Delivering GIS Solution
Developing a GIS solution is important when performing analysis tasks over specific geographic areas. A GIS or Geographic Information System is a software that captures geographic information and utilizes the data for manipulation, viewing, and analysis depending on which context or parameters it is required.
The potential solution that a GIS can provide is endless. 
Big or small, many businesses and institutions rely heavily on geographic data to understand the demographic areas of possibilities. For example, a fast-food center aiming to maximize its catchment area and accessibility will look for demographic information collected from the busiest roads, the best junctions, and leisure centers such as shopping malls and multiplex theatres.
A telecom provider will need to understand if the network condition over a region is good. If not, then they will work on delivering optimized solutions.   
As you can see, geographic data is crucial for all business making decisions. But geographic data alone is useless without attribute data (any data that gives you useful information about a particular area, population, network strength, quality, etc), which can be Continuous data or Discrete data.
The question now that must be lurking in your mind is, how would all this information help you develop a solution? This is where GIS comes in. GIS Provides Multiple Source Data Compilation and Single Data Representation 
GIS works based on four elements. These elements may be unrelated, but, when brought together, serve as a useful source of information. These four elements are— 
Data acquisition
Data storage and retrieval
Data transformation and analysis
Reporting
The compiled data is then presented on a single graphical user interface and from there further analysis work continues.
Take a look at how GIS data representation becomes a useful source of information and solution. The following map shows potential areas reported to be prone to tornadoes between Jan 1 – April 30, 2018.
Fig. 1 —  Spatial Discrete Data Representation
The second map shows the average monthly temperature in the contiguous United States as recorded in April 2020.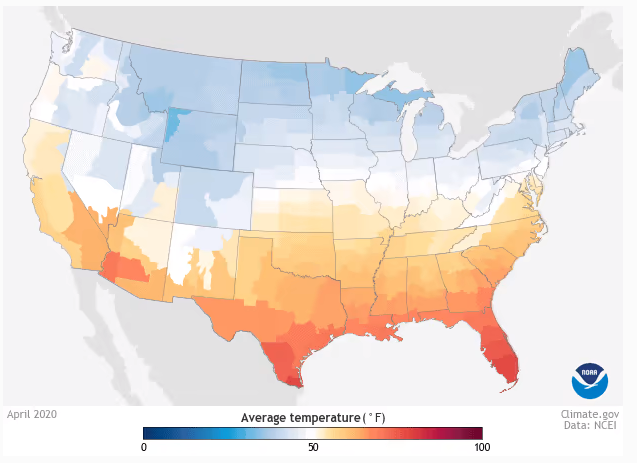 Fig. 2 —  Spatial Continuous Data Representation
About GIS Maps
Maps are considered the simplest form of visual representation of data. It can become a highly interactive analysis tool when combined with different data interpretation and color segregation methodologies.
Below is a GIS map representing America's racial diversity using precisely 308,745,538 million dots of data. On the map, each value is color-coded to represent an individual dot's ethnicity. For example, the blue dots represent Caucasian, the green dots represent African American, the red dots represent Asian, the orange dots represent Hispanic, and the brown dots represent Other / Native American / Multi-Racial.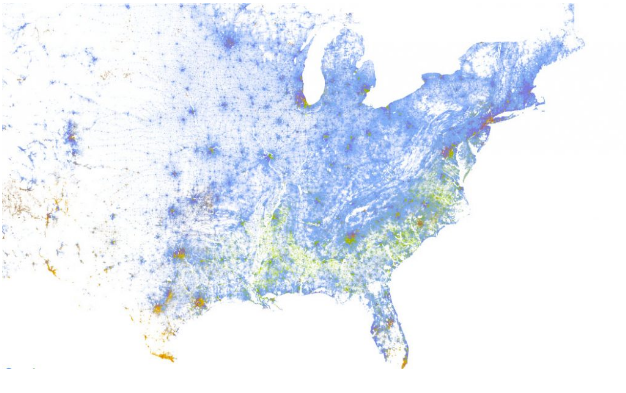 I like the map mainly because of the way the values are displayed using colors. However, what if I want to get a more granular view of the map? Would zooming help? Or would it lead to data overlapping? (I think binning would make better data representation on the map than data points. However, that's another topic of discussion entirely.)
Creating a Web Application With GIS Map Support
Developing and delivering a web application with a GIS solution calls for a proper understanding of the elements used for developing a GIS application.
These elements are— 
A web application
Digital base maps
Operational layers
Tasks and tools
Geodatabases
When the elements are combined, we can build a framework for delivering GIS solutions to end-users. All of these elements are accessible either through the web or through the Local Area Network.
Below is a sample diagram showing a GIS application framework.
A brief introduction to each element will give you a better understanding.
1. Web Application
A web application provides a software interface to the client — the user point of contact with the application.
The type of web application that you want to develop will depend on which tools the user will use. Also, how the users will view the data.
There are instances where the user's computer setup and internet speed will matter.  
2. Digital Databases
The base maps are what will provide the geographic context to the web GIS application. For example, applications providing recommended optimization solutions to telecom providers for a selected area would require some of the following base maps displaying terrain and transportation. Choosing the right base map type depends a lot on the user's work. Some applications will provide users with only one base map type and some applications will provide users with multiple base maps. Developers will need to decide which base map to set as default.
Some names of base map types:
Street Maps: This is the most common default map type used in software applications for an urban context. Users can zoom in to find more details.
Satellite / Aerial Imagery: This type of map is ideal for survey works such as agricultural or environmental mapping. However, this type of map is not suitable for performing statistical analysis. Make sure you check the resolution and the age to get the most up-to-date map.
3. Operational Layers
These are a small set of layers that you work with directly or produce when running an operation, such as running a query. Layers are tailored to the type of users who are going to use the application. For example, an urban planner will use the GIS application to update the location with information about manhole covers in a sanitary sewer/stormwater system layer. But an urban area analyst will be using the GIS application to view the map where the manhole covers are located. So the layers for an urban planner will be different from the ones used by urban area analysts.
Operational layers will consist of:
Editing and data access layers: These are map layers used for editing features, performing queries, and feature selection for analysis.
Query results: Applications will send a query request to the server, to which the server will respond by sending a set of records as results. These can include a set of attribute records or individual features. The query results are displayed as map graphics.
Result layers derived from analytic model: GIS analysis performed to derive new information, can be added as new map layers. These map layers can be explored, visualized, interpreted, and compared.
Operational layers are dynamic and are retrieved from the GIS database based on the query run.
They are displayed at runtime every time a user zooms or pans the map. In contrast to the base maps that use wide range map scales, operational layers work within a focused range of map scales and resolutions.
How an operational layer is stacked together with other layers and the base map will vary. In some applications, it is displayed on top of the base map to provide geographic context. Again, in some applications, the operational layer is displayed underneath other layers to provide location context. For example, to provide location context for displaying postal code areas by demographic information, the results are often overlaid with transportation lines and place names.  
4. Task Tools
The toolsets added to the application can be common types ranging from the search tool for finding an address or the area selection tool for selecting a region on the map. It can be more specific tools used for running calculations to find out the potential places where network conditions could be worst.
Here are two ways by you which you can determine the tool usage—
Having the server do it: Used when a required data is not housed on the client-side and running a calculation query on a given dataset becomes a complex process. Typical examples include finding and routing to the closest facility or finding the best habitat.
Having the client do it: It is more suitable when all the data required is present on the client-side. For example, when the set of point features required for generating a heat map is already present on the client-side.
5. Geodatabases
Geographic data is useful not just for running a query and displaying results on the base map. Geodatabases can support all levels of implementation in GIS. The information stored in geodatabases is of immense value when addressing a broad range of questions. Typically a strong geospatial data management framework includes one or more geodatabases.
Conclusion
Designing and developing GIS applications can be either simple or complex. It depends on how your framework looks. If your service or product requires dealing with geographical spatial data, then a GIS solution is the right choice. Whether it is an application for finding nearby taxis or planning civil engineering projects, with GIS tools and associated libraries, you can create and deliver the most versatile solutions.
Credit: Source link