Augmented Reality technology – emerging and contemporary uses
The era belongs to technology. From SMEs to big enterprises, technology has evolved to be the backbone of the business. In the field of technology, Augmented Reality technology in no time has become the mainstream. This immersive technology that was limited to gaming a few years ago has now expanded its use cases remarkably. We have seen the use of Augmented Reality from healthcare to retail to automotive to oil and gas and so on. Here, Let's have a look at-
Emerging and contemporary uses of Augmented Reality technology in 2021:

 
·

       

Augmented reality in app design:
Augmented Reality has redefined the app design trend. With changing technology and the environment around, people are attracted to new app designs. We spend significant hours on an application that has emerged the need for eye-pleasing, soft and immersive design.
Augmented Reality technology is being used in app design to make the application immersive and attractive. Augmented Reality gives you a feel as if you are inside the app. One of the prominent examples is the IKEA app. The app lets you see how the furniture will look in your place. Another great example is the Travel app designed by Kyron that integrates Augmented Reality and Virtual Reality concepts. AR helps users to pinpoint routes and share alerts. This Augmented Reality technology-based app design will transform the design industry and is going to play a significant role in upcoming years.
·

       

Augmented Reality  technology in print and press

:
Augmented Reality technology is being used in print and press to enable users to have an immersive experience via 3D designs and dynamic amalgamation of color and texture. You can scan the QR code and have an immersive experience of the brand or product through Augmented Reality. Print media is directly related to business and influence marketing. AR has paved new ways for print and press business to connect to users.
With time each business needs to be up to date and keep up with the ongoing trend. Augmented Reality technology is impacting magazines and newspapers business as well. Gone are the days when readers used to hang on to paperbacks. In this tech-driven era, to expand the reach to millennials companies need to adopt this technology. A data says "rates of daily printed press consumption dropping from 37 percent in 2012 to 29 percent in 2016 – and we are in 2021 now!"
What attracts users towards digital media is its ability to visual story-telling. Augmented Reality technology makes this approach highly immersive, interactive, and engaging. Undoubtedly people still love to hold and gaze at physical objects but the seeping of AR in digital media and its impact cannot be overlooked.
·

       

Augmented Reality technology in packaging

:
Augmented Reality offers an incredible user experience in the packaging industry. The technology is majorly used to increase brand visibility, drive potential customers and ultimately boost sales. There are different forms of using AR in packaging-the most used form is by scanning QR codes.


Augmented Reality technology in the packaging (source)
Some of the companies that are innovatively using this technology in packaging are wine companies, haircare brands, the food industry, the beverage industry, etc. Jack Daniel is one of the top-selling American whiskey in the world. Jack Daniel's AR experience in packaging has garnered lots of attention. It takes customers through the distillery process and offers a virtual tour. This has not only skyrocketed the brand visibility but also increased customer retention by building trust.
A well-recognized brand like Herbal Essence is using AR in packaging to inform users about the composition and usage of the product. It also displays plastic waste issues and encourages customers to step forward for a cleaner world. Francesco Rinaldi, the famous and one of the oldest pasta Sauce company uses AR to bring Mrs. Rinaldi-the icon- into life and tell users how their product is different from others. This has hugely impacted customer interaction and retention.
·

       

Augmented Reality in tourism and travel:
The travel and tourism industry has been the worst hit in this pandemic. With lots of gloomy news around technology has become the savior. Integration of Augmented Reality in the travel and tourism industry helps to reshape the industry and offer an immersive experience. The travel industry can quickly engage customers through Augmented Reality technology. Using virtual reality you can take your user to the destined location virtually and using Augmented Reality you can know the routes inside the location and grab information about the places.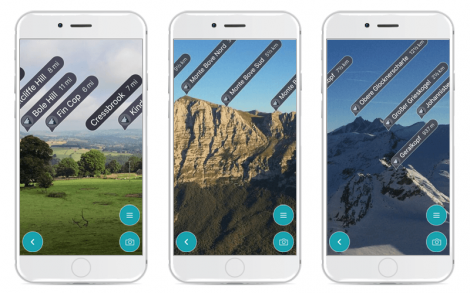 Skyline using AR in tourism (source)
Marker-based Augmented Reality technology helps to recognize the object and enriches it with detailed information. The technology is being used to experience an augmented tourist destination, immersive navigation, interactive location booking, and so on. For instance, Skyline is using AR tourism applications. Using the app you can not only recognize labels closely but also help you to reach the destination.
·

       

Augmented Reality indoor navigation:
We are blessed with Goggle maps to navigate from one destination to another. We do not need to worry about reaching a certain location, but what about the navigation within the location. For instance, you reached to Airport using Google map but further how would you know where is the café or the booking area located? Well, we have Augmented Reality to help us go through indoor navigation.
Augmented Reality technology is being used in indoor navigation. The technology will see huge growth in this sector in upcoming years. The architecture module of indoor navigation comprises Positioning, mapping, and rendering. Here, positioning and precise mapping is a complex process but the technology has made the process simpler. ARcore and AR kit is used to develop indoor navigation of a place such as an airport, mall, museum, etc. The future beholds huge space for Augmented Reality indoor navigation and prevents visitors from getting lost.
In this fast-paced world, technology bridges the gap of inconvenience and stands as the backbone to bring the best changes in businesses. Augmented Reality technology has steeped in and is making remarkable, profitable, and sustainable changes in different industries.


Post Views:
10

Credit: Source link