8 JavaScript Chart Components for Business Apps
The ability to visualize complex data in a clear and comprehensible way is one of the key requirements of modern business applications. Various types of charts make it much easier to analyze statistical data, prepare any kind of reports, and facilitate decision-making. Therefore, web developers are often asked to integrate charting tools in apps. If that's your case, you've opened the right page.
You will probably agree that developing a charting functionality from scratch can be very time-consuming. That is why it can be reasonable to consider using ready-made JavaScript chart components designed specifically for this task.
In this article, we will consider eight popular commercial JavaScript charting libraries that suit well for developing business applications. We will review general information on each product and pay attention to the key aspects that are always taken into account by developers before selecting the right tool: types of available charts, integrations, exporting formats, package size, and price.
Let's get to it!
DHTMLX Charts
DHTMLX Charts is a lightweight and fully customizable JavaScript chart component for building various types of charts with support for all popular browsers and touch devices. This library comes with a powerful set of charts that can be used separately or combined for covering most of the data visualization needs in any business app. The design of DHTMLX Charts is based on Material style. You can create your own CSS classes with custom settings to adjust the look and feel of charts and their elements to the requirements of your project.
Using an extensive API of this library, you can easily configure common properties (scales, series, legend) of all available chart types in the desired way. It is possible to enrich charts with numerous useful features such as grid lines, threshold line, baseline, logarithmic scale, legend alignment, and much more. Not a single change in data will go unnoticed, as DHTMLX Charts render data dynamically and all data modifications are clearly illustrated in real time. Data is loaded in charts in the JSON format from local or external sources. Interestingly, DHTMLX Chart can be used as a separate library or in combination with DHTMLX Suite UI components for building consistent web apps.
Not much time is needed to start working with DHTMLX JavaScript charts, as its initialization takes only several simple steps. Get a foretaste of utilizing this library in the DHTMLX code snippet tool.
Main chart types: Line, spline, stacked, bar, X-bar, area, spline area, pie, 3D pie, donut, scatter, and radar charts
Integration with JS frameworks: React, Angular, Vue.js
Exporting formats: XML, JSON, CSV
Package size: 373 kB
Trial version: DHTMLX Charts
Price: $79 – $359
FusionCharts 
FusionCharts is a JavaScript library providing a large collection of interactive charts (100+) that can be added to business dashboards. Here, you can find general-purpose charts (bar, line, area) as well as more complex tools like XY plot and Pareto charts. All charts are responsive and render well in modern or old browsers. FusionCharts allows for utilizing default or custom themes to ensure that charts will conform to the design standards of your app.
In addition to standard functions such as tooltips or legends, the library provides many other features for creating data-intensive visualizations. For instance, you can apply data plots, trendlines, annotations, chart branding, data drilling,  and more. If you have difficulties in accurately positioning several charts on one page, the space management functionality will help to arrange them and save more space.
Main chart types: Column, bar, line, area, pie, donut, stacked, bubble, market share, Pareto charts
Integration with JS frameworks: React, Angular, jQuery, Vue.js, Ember, AngularJS, React Native, Svelte
Exporting formats: PDF, PNG, JPEG, Excel 
Package size: 4.61 MB
Trial version: FusionCharts
Price: $499 – $2,499 (annual license) / $1,299 – $6,499 (perpetual license)
amCharts
amCharts is a programming library offering a package of charts for presenting data in different graph formats in JavaScript and TypeScript apps. The library uses an in-house-developed SVG rendering engine with incorporated filters and animation support for building interactive interfaces. amCharts is quite flexible, as you can configure any chart elements and specify how they will look under certain conditions (clicking, hovering, change of numerical data, etc.). The availability of color sets, gradients, modifiers, and multi-theme support allows adopting a more creative approach to the styling of charts. You can also apply contrast themes and enable keyboard navigation.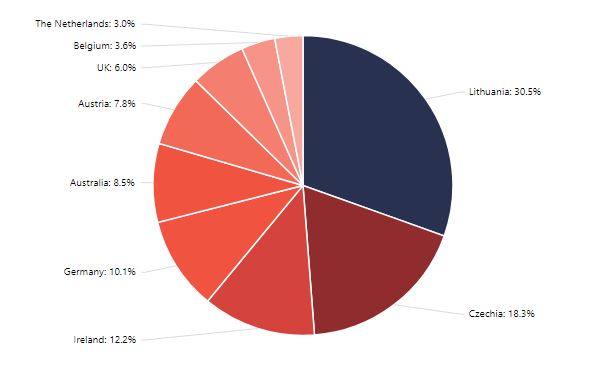 amCharts relies on utilizing threaded data parsing as well as on reusing and rehashing chart elements rather than redrawing them to achieve better performance. Incremental data updates enable you to manage chart data dynamically. All numeric and string values used in charts are brought to a common format with the help of formatters. Special adapters will help you to override default settings and modify charts using custom code. If it is necessary to show more information related to charts, popups and modal windows are at your service.
Main chart types: line, area, column, scatter, floating, stacked, pie, donut, funnel, pyramid, and pictorial charts
Integration with JS frameworks: React, Angular, Ember, Vue.js
Exporting formats: JPEG, PNG, PDF, XLSX, CSV, JSON
Package size: 22.6 MB
Trial version:amCharts
Price: $180-$8,925
Highcharts
Highcharts is a JavaScript charting library based on native browser technologies that can be used for cross-platform and cross-browser web app development. It provides a range of interactive charts with touch/mobile-optimized design. Highcharts allows managing the design of charts separately from the data functionality and creating custom themes in the styled mode. The capability to render large data sets is ensured by the WebGL-powered boost module.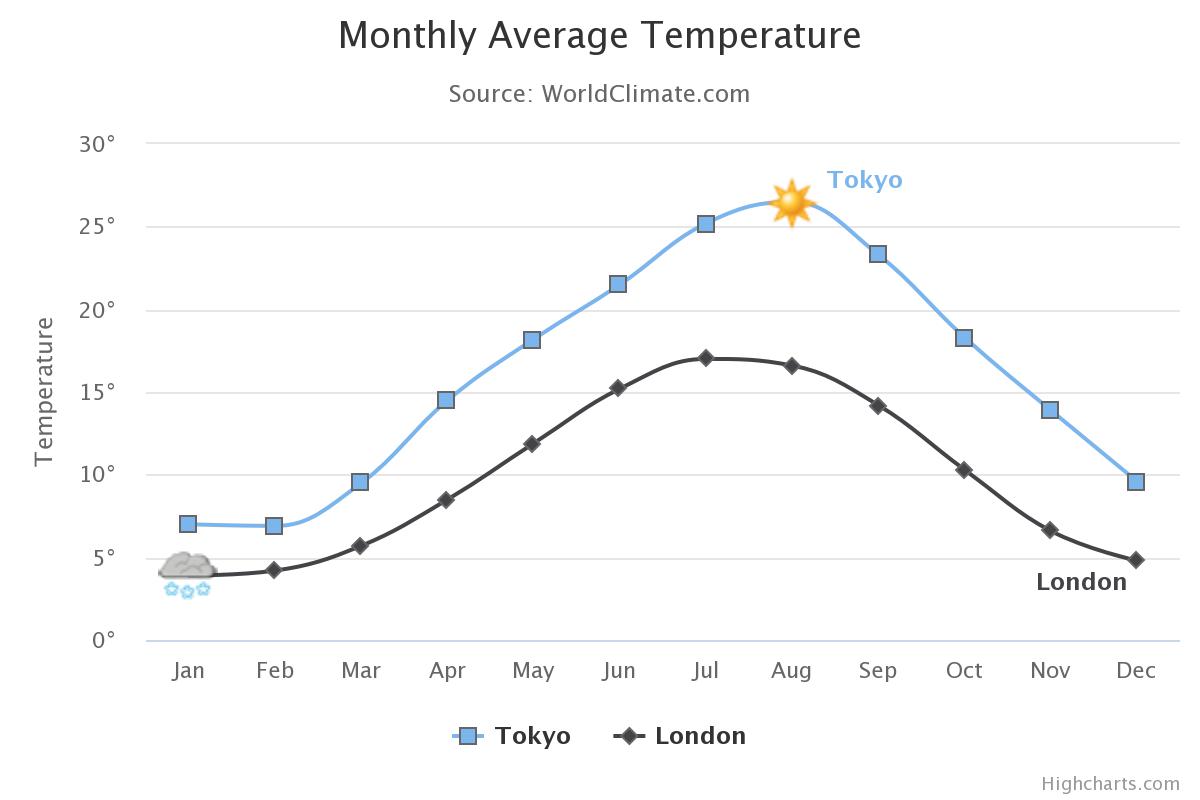 The Highcharts debugger helps to detect and fix coding errors faster. The support of TypeScript declarations facilitates working with the library in TypeScript-capable editors. You can also implement a chart editor in the app, enabling end-users to create and publish charts without coding. Users can also interact with charts by placing annotations. The library follows several accessibility standards (WCAG 2.1, Section 508, EU Web Accessibility Directive) and supports the sonification of data. If the existing Highcharts feature set is not enough for you, it can be extended with animations and more complex functionalities. 
Main chart types: Line, spline, area, column, bar, pie, scatter, gauges, polar, radar, pyramid, polygon series, Pareto charts
Integration with JS frameworks: Angular, React, Vue.js
Exporting formats: PNG, JPG, PDF, SVG vector images
Package size: 43.2 MB
Trial version: Highcharts
Price: From $535
AnyChart
AnyChart is a JavaScript visualization solution that enables developers to implement charting functionality in mobile, desktop, or web apps. With AnyChart, you can show data with multiple charts out-of-the-box or create your own charts. When it comes to visual adjustment of charts, you can apply predefined color formats, palettes, or themes, or come up with custom schemes.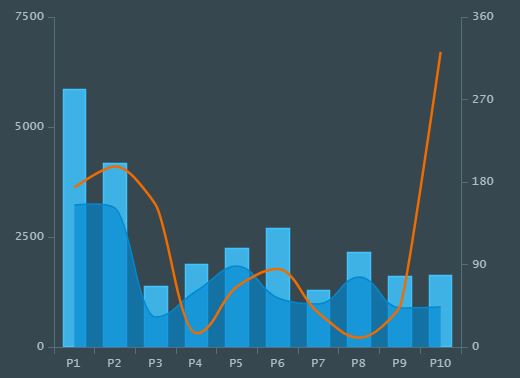 If you need to complement charts with additional information or annotations, AnyChart provides a range of ready-made drawing tools. Charts can also be equipped with technical indicators for data analysis. Multiple localization options (194 locales) make Anychart adaptable to different language versions. It is also possible to share your charts created with AnyChart with others in popular social networks. AnyChart uses the data sets mechanism and data streaming to handle data visualized in charts. Data can be loaded in charts in different formats (XML, JSON, CSV, Google Spreadsheet, HTML Table).
Main chart types: Pie, donut, column, bar, line, scatter, area, range column, and Pareto charts
Integration with JS frameworks: Angular, React, Vue.js, Ember, Meteor
Exporting formats: PDF, PNG, JPG, SVG, CSV, Excel
Package size: 11.9 MB
Trial version: AnyChart
Price: From $49
Webix Charts
Webix Charts is a JavaScript charting widget that can be used in web apps for visualizing business-related data. The widget is a part of the Webix UI widget pack. It consists of multiple chart types with various styling and positioning settings. Style presets help change the appearance of charts on-the-fly. There is a range of useful operations for interacting with chart data such as sorting, filtering, grouping, adding, and deleting items. Webix charts comply with the Section 508 accessibility requirements. 
The possibility to apply stacked graphs (stacked bar and area charts) allows showing a part-to-whole data relationship. Building charts complemented with elements from other types is also possible. Webix charts with a horizontal scale can be coupled with a special RangeChart component for working with large amounts of data. Static charts can be transformed into dynamic for working with frequently updated information. 
If you cannot find a specific chart type for your project in the list of available options, integrate third-party charts and use them as Webix components. 
Main chart types: Pie, 3D pie, donut, line, spline, area, spline area, bar, stacked bar, radar, and scatter charts
Integration with JS frameworks: jQuery, Angular, React, Vue.js, Backbone
Exporting formats: PNG, Excel
Package size: 7.28 MB
Trial version: Webix Charts
Price: $849-$9,499 (can be purchased only with other UI widgets included in the Webix package)
Ignite UI Charts
Ignite UI Charts is a JavaScript UI component intended for visualizing various business and financial charting scenarios. It is one of the top components of the Ignite UI toolkit designed by Infragistics specifically for enterprise apps. All charts are mobile- and cross-browser-friendly. 
Multiple interactive features (series highlighting, crosshair, etc.) help end-users to work with the charts more productively. The Ignite UI's Zoombar comes in handy when it is needed to focus on particular chart details for deeper data analysis. Trendlines and sparklines are useful for spotting and evaluating tendencies in statistical info. The Infragistics Motion Framework enables you to add interactive animations. The component uses remote and local data binding.
Infragistics also provides the  HTML5 Page Designer tool that allows you to play around with the code and design of Ignite UI Charts and estimate the suitability of this component for your project.
Main chart types: Bar, donut, stacked, scatter, area, waterfall, OHLC, spline, pie, financial, funnel charts
Integration with JS frameworks: ASP.NET (Core and MVC), Blazor, jQuery, Angular, React, Web Components
Exporting formats: PDF, XPS
Package size: 10.5 MB
Trial version:Ignite UI
Prices: $849-$1,099 (can be purchased only with other UI components included in the Ignite UI package)
Syncfusion Charts
Syncfusion Charts is a UI control from the Essential JS 2 library written in TypeScript for illustrating data by means of charts and graphs. It contains a bundle of customizable charts (30+) with embedded interactive features (trackball, events selection, drill-down, etc.). Charts can also have animations and be updated with live data. You will need less than 150 kb to depict a simple Syncfusion chart.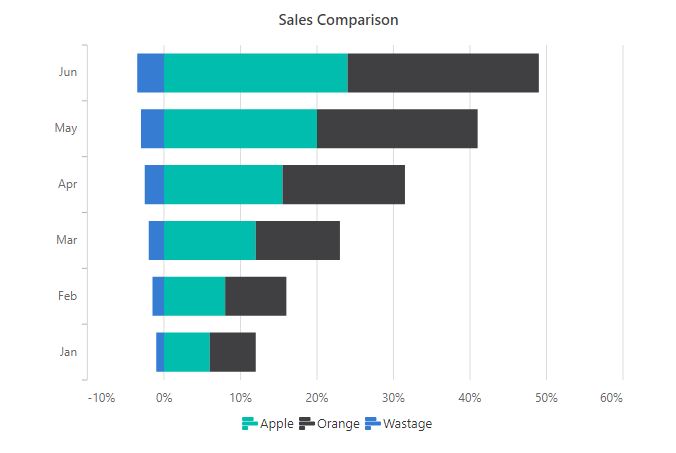 The control supports SVG and Canvas rendering methods. It also has a mobile adaptive architecture and complies with ECMAScript 6 standards to permit rendering in modern browsers. Data binding can be implemented with the use of various services such RESTful, OData, WCF, or JSON. Internationalization and localization settings (including RTL mode) will help to make your charts understandable to users from all over the world.
Main charts types: Line, area, bar, spline, stacked, range, correlation, polar, radar, financial charts
Integration with JS frameworks: Angular, React, Vue, Blazor
Exporting formats: JPEG, PNG, SVG, PDF
Package size: 23.3 MB
Trial version:Syncfusion
Prices: Starting from 995$ (can be purchased only in a single package with other UI controls from Essential JS 2)
Closing Thoughts
As you can see, there are many possibilities for visualizing datasets of any complexity in business web applications. All reviewed JavaScript chart components have many powerful features, but it is hard to name any of them a one-size-fits-all solution. That is why it is important to choose the tool that maximally meets the requirements of your project, fits into the budget, and allows creating charts with minimum time and effort. 
Credit: Source link