Startup: Mojo Vision Eyes a Future in Smart Contact Lenses 
Wearable technology, including smart electronic devices in clothing or implanted in a user's body, is a rising market first spurred by fitness tracking and more and more now by health concerns. The market is expected to reach $17.8 billion in 2021, with a penetration of 5.3%, according to estimates from Statista, researchers offering market and consumer data.  
Mojo Vision is an example of a company with an innovative wearable technology focused on eyesight, that it is working to get to the market, including by getting FDA approval as a medical device. Steve Sinclair, SVP of Product and Marketing, Mojo Vision, responded by email to queries from AI Trends as part of our startup coverage. Here are his responses:  
AI Trends: Describe your team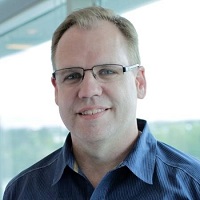 Steve Sinclair: Mojo Vision is led by a team of Silicon Valley veterans from companies including Apple, Amazon, Samsung, HP, Microsoft, Google, Motorola and others. Together, the senior team at Mojo holds more than 100 patents and has developed numerous revolutionary technologies. 
What business problem are you trying to solve? 
Mojo Vision is working to build the world's first true smart contact lens, Mojo Lens. The goal of Mojo Lens is to provide people with immediate access to information that they need without the visual distraction of a device. We believe that information should be there when you need or want it, and then disappear when you don't. Whether it's remembering a multi-step procedure, monitoring your heart rate on a run, getting walking directions from a meeting to your hotel, checking on your house remotely, or seeing in a dark garage, we envision people using this most when they need information or answers but want to stay present and "eyes up" in the world around them.    
How does your solution address the problem? 
Mojo Lens has a built-in display that gives people the useful and timely information they want without forcing them to look down at a screen or losing focus on the people and the world around them. Mojo calls this eyes-up experience Invisible Computing, a platform that enables information to be instantaneous, unobtrusive and available hands-free, and will allow people to interact with each other more freely and genuinely. 
Mojo Lens incorporates a number of breakthroughs and proprietary technologies, including the smallest and densest dynamic display ever made, an ultra power-efficient image sensor built for computer vision, a high-bandwidth, low-power wireless radio, and motion sensors for exceptionally precise eye tracking and image stabilization.  
How are you getting to the market? 
Mojo intends for the lens to expand availability worldwide over time. In the United States, contact lenses are typically a Class II medical device regulated by the FDA. Mojo is working with the FDA through its Breakthrough Device Program to ensure we comply with all safety regulations and standards. Our goal is to focus on FDA certification in the US first and then expand to other markets, but the exact timeline depends on regulatory approval. 
Do you have any users or customers? 
We ultimately expect this product to benefit consumers, but one of the early applications being developed for Mojo Lens is helping people with impaired vision better navigate the world around them. We're working with Vista Center for the Blind and Visually Impaired and have been accepted into the FDA's Breakthrough Device Program, which will help us bring our solution to market.  
In parallel with our efforts around helping people with impaired vision, we also anticipate early adoption of Mojo Lens by "prosumer" sports enthusiasts that embrace technology to monitor and improve their performance. Examples of these prosumers could include athletes such as golfers, runners, cyclists, and skiers.    
Mojo Lens has the potential for many applications in the enterprise as well. In industries like retail, customer service, and other patient/customer-facing roles like healthcare and hospitality, access to information is essential, but personal interactions and relationships are what they're built on. By providing access to real-time information in a heads up, hands-free form factor, Mojo Lens can greatly improve productivity, increase quality, and allow users to build relationships without distracting devices in the way. Additionally, in roles that require compliance with technical or industry standards, the Mojo Lens can provide information to workers who need to complete tasks accurately and safely.  
Any anecdotes/stories? 
Every milestone that the Mojo team has crossed has been a major breakthrough in physics and technology. And we celebrate each one along the way. Our attitude going into the founding of this company is that there is no problem we can't solve—as long as it doesn't break the laws of physics. 
One major milestone was when our CEO Drew Perkins became the first person to get fitted for and wear a prototype of Mojo Lens. A number of us gathered around the office to see his reaction of wearing the lenses. Imagine being able to see augmented reality images with your eyes even when they are closed! It was very exciting for the entire team.  
How is the company funded? 
To date, we've been able to raise more than $159M over four rounds of funding to develop our technology. These include investments from NEA, Shanda Group, Khosla Ventures, Advantech, Gradient Ventures, HP Tech Ventures, Motorola Solutions, LG Electronics, Liberty Global, Fusion Fund, Struck Capital, Dolby Family Ventures, Motorola Solutions Venture Capital, Intellectus Partners, KDDI Open Innovation Fund, Numbase, InFocus Capital Partners and more. 
To learn more, visit Mojo Vision. 
Credit: Source link