Apps for Diabetics
You Are What You Eat! Proper Nutrition Is a Very Important Part of Diabetes Management
Choosing nutritious foods and balancing what and how much you eat with activity level, blood sugar levels can be kept as close to normal as possible. These easy to use apps will help you make healthy choices for the entire family and find a plan that works from you.
Get delicious, healthy meals planned out for you that take just 30 minutes or less.
Mealime Meal Plans & Recipes
For those who want to cook healthy meals, but do not have a lot of time.
With Mealime, you can select to view from three to six different meal ideas. Once you find one you like, just tap on it for further details and the ingredients will be added to the in-app grocery list for you. After selecting a meal plan, see a list of cookware you will need, ingredients to grab, and instructions for preparation. Choose your menu type such as low carb, vegetarian, or classic. Then mark any allergies, check the foods you dislike, and select your meal size.
Why we love it
Mealime is a convenient tool that takes the work out of meal planning. The app has a built-in grocery list that makes it easy to get what you need from the supermarket. And, the meals only take 30 minutes to create, saving you even more time.
Eat This Much – Meal Planner
Eat This Much Inc
For those looking for a personal diet assistant.
Put your diet on autopilot with Eat This Much. Tell them your diet goals, the foods you like, your budget, and what your schedule looks like, and they'll automatically generate a complete meal plan to meet your targets. They offer both free accounts and premium accounts. As a free user, you can create a day's meal plan and completely customize it however you want. Each meal can have different preferences, and your nutrition targets can be whatever you like. It's a great way to start adopting a healthier lifestyle.
It's All Here
Lifesum: Diet & Macro Tracker
For those who want a food tracker with diet plans and a calorie counter.
Lifesum is for anyone who's serious about maintaining good health and diet. You must be committed, however. If you don't use the tools and information as presented, you'll be wasting your time.
Why we love it
Counting calories shouldn't be difficult. Lifesum has one of the best food-tracking solutions on the App Store. EVERYTHING seems to be in the app's database of foods. We also love that you can use Lifesum to prepare meals for the coming week thanks to the built-in recipe sections. Looking for more? The app also has diet plans, including ketodiet, low carb, high protein, and more.
Get up and Move! I Know, I Know…as Much as We Don't Want to Hear It, Exercise!
Yes, exercise can really help with managing diabetes and also help you adopt a healthier lifestyle. People with diabetes should talk to their doctor or health care provider before starting any exercise plan. These apps are perfect for finding the right type of exercise plan for you. If you are just tracking your steps or getting ready to run a 5K, these apps have a little bit of something for everyone!
It's time to get that lazy butt into shape
C25K® 5K Trainer
For those who are looking to train up and run 5K marathons.
C25K is a great app for beginner runners. The interface is very simple, and uncluttered. Even though this app is free, it does feature the full program so you can expect to be able to run a 5K in 8 weeks (so long as you stick to the program). So, if you've got 30 minutes a day, 3 days a week, for 8 weeks, why not download this app, press the start button, and get off that couch? This is a fantastic app, but I've got to say, running with an iPad isn't ideal. So unless you're on a treadmill, please keep that in mind.
Why we love it
We are all lazy couch potatoes in some way or form. With C25K, that's going to change. The app provides you with a simple training regime that is manageable and will get you into better shape in no time.
A fitness how-to
Full Fitness : Exercise Workout Trainer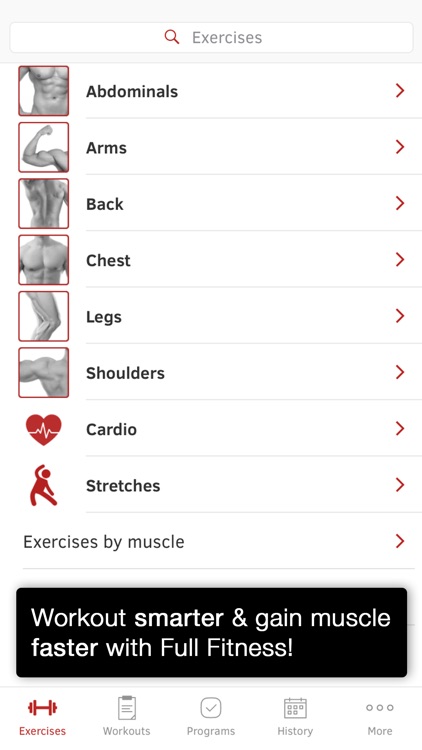 For fitness fanatics needing a detailed and illustrated way to do their exercises.
Along with providing a step-by-step way to do the different exercises, the app offers a calorie tracker with more than 90,000 different food items. You can also record and track each exercise and even add your own if needed. There are also 30 routines provided to reach various goals like weight loss, strength, ab definition, golf program, and more.
Why we love it
Full Fitness has something for everyone, no matter how familiar they are with different exercises. Along with detailed videos showing how to do basic workouts, there is also more in-depth looks and some exercises you may have never heard about.
Get in shape with your own personal trainer
Fitbit Coach
For exercise fans looking for a powerful and personalized training system.
FitStar Personal Trainer is a gorgeous and essential to have if you're looking for a virtual personal trainer. While the basic training is free, you can unlock a FitStar Premium membership with an in-app purchase of $7.99 per month or $39.99 per year. Users receive premium programs and moves, unlimited sessions, high-definition video, and priority support. The subscription covers both the app and new Web portal. As a nice touch, the app can also be used on the Apple Watch. On the wearable device, you can see moves, control playback, and offer feedback.
Why we love it
While a personal trainer is a great tool to help get fit, they are often expensive and the entire process is time consuming. But FitStar Personal Trainer makes it quick and easy to have a workout anytime, anywhere. All you need is your iOS device.
Be in Control of Your Diabetes with Just a Quick Tap
These apps allow you to take your health back and live your life to its fullest! Track your blood sugar level, glucose, carbs, weight, and more! Get help improving your diet, losing weight and providing feedback, support and motivation. Don't do it alone!
mySugr – Diabetes Tracker Log
mySugr GmbH
For those looking for an easy to use logbook to track and manage their diabetes.
The free mySugr app is your loyal diabetes tracker for your iPhone. From now on, stay in control of your health and say goodbye to manual logging. On a daily basis, mySugr helps you control your blood sugar levels, monitor your carbs, track your insulin use and avoid hypers/hypos to make your diabetes suck less. It's quick and easy to collect your daily therapy data such as meals, diet, meds, blood sugars, insulin, carbs and more. You can use mySugr as a 24-hour tracker, seeing all essential diabetic data at a glance, right on the first screen. Monitor your medical condition with a graph of the day, average blood sugar, standard deviation, amount of insulin, activity levels and more.
Diabetes Tracker by MyNetDiary
MyNetDiary Inc.
For anyone looking for an easy to use comprehensive diabetes tracker.
MyNetDiary's Diabetes Tracker app is the easiest and most comprehensive diabetes tracker app for the iPhone. MyNetDiary can help you better understand and control diabetes and pre-diabetes – along with improving your diet, losing weight and providing feedback, support and motivation. It was designed for diabetes type 1, type 2, pre-diabetes and gestational diabetes. MyNetDiary's Diabetes Tracker also has a virtual coach option that can provide personalized diet advice, recommend articles and blogs, suggest tips and tricks.
Blood Pressure & Glucose Pal
LINKLINKS LTD
Provides diabetics with an easy, convenient and professional way to monitor glucose readings.
Glucose Wiz keeps your glucose/blood sugar logs here with time, period, meds taken, weight and note, and it generates chart view to show glucose tendency for before meals, 2 hours after meals and at bedtime, and also generates histogram to show average number for each period separately.
Find Support in Your Community and Better Ways to Manage Your Diabetes
It doesn't have to be you against diabetes, we are all in this fight! Discover your local diabetes community, wherever you are. Get help, and support from people going through similar struggles. It's a great way to help others and yourself!
Beyond Type 1 Diabetes
Beyond Type 1
For Type 1 diabetics looking for community support.
Beyond Type 1 is a community dedicated to changing what it means to live each day with Type 1 Diabetes. It's the largest collection of practical ideas, stories and medically-accurate information for not only living with Type 1, but thriving with it. Beyond Type 1 allows you to chat, message and build relationships with others touched by Type 1 Diabetes. Share your story and find inspiration from members going through similar situations.
Control Your Diabetes With Ease
One Drop: Transform Your Life
If you're suffering from diabetes, you need this app. Ideally suited for those who have recently been diagnosed.
Why we love it
The One Drop Diabetes Management app offers syncs perfectly with the Apple Health app. In addition to supporting the One Drop meter, the app works with other third-party solutions, including Dexcom, Accu-Chek, One Touch, and many more. Includes fully-featured Apple Watch watchOS 3 app too. Use the app to log glucose, meds, food, and activity via your iPhone or Apple Watch.
HelpAround
HelpAround Inc
For diabetics looking for help and support within their community.
Get help and support with glucose management, carb counting, CGM, insulin, etc. If you or your loved one has diabetes, know that there are people in your town, school, and neighborhood who are dealing with similar challenges. Join the HelpAround diabetes safety net, and discover nearby diabetes helpers, wherever you are.
Credit: Source link