Overview of JavaScript Data Tables
When developing a data-intensive business web application, you will certainly require a data table (also known as a grid table or data grid). It is a key UI element for organizing large amounts of data in a tabular form and thereby enabling end-users to conveniently interact with it. The implementation of this functionality can have a great impact on important parameters such as performance and user experience.
Therefore, it is often recommended to utilize ready-made JavaScript data tables. They have various useful features and help make the coding part much faster. But the big issue here is choosing the right grid tool from an array of products available on the market.
Let us review ten popular commercial JavaScript grid libraries and UI widgets, and highlight their main features to see how they can benefit web developers and end-users.
ag-Grid
ag-Grid is a JavaScript data grid used for displaying large amounts of data in an Excel-like style. It is specifically designed for enterprise-grade applications to facilitate data analysis and reporting. Apart from standard grid features (column interactions, sorting, row selection), you can equip your app with more complex functionalities such as integrated charting, grouping and pivoting, live streaming updates, and others. Auxiliary tool panels offer fast and convenient access to grid operations.
With ag-Grid, you can change the overall grid appearance by applying predefined customizable themes or create your own. More specific modifications, like the styling of rows and cells are performed via CSS. The cell content is altered via cell editors. Enhanced grid performance is achieved through the use of row and column virtualization, event propagation, animation frames, and other techniques.
All technical aspects of using ag-Grid and its feature set with different frameworks are explained in the documentation section.
Compatible with: Angular, React, Vue.js, Polymer
Exporting formats: Excel, CSV
Trial version: ag-Grid
Price: from $750
Bryntum Grid
Bryntum Grid is a JavaScript grid component based on the ES2020 standard. It ships with a range of features that are commonly expected from a grid in business apps, including a reordering of rows and columns, cell editing, searching and filtering, and scrollable grid sections. Interestingly, the component can also be complemented with a tree view. The visual appearance of your grid is defined using SASS-based themes, renderer functions, and normal CSS.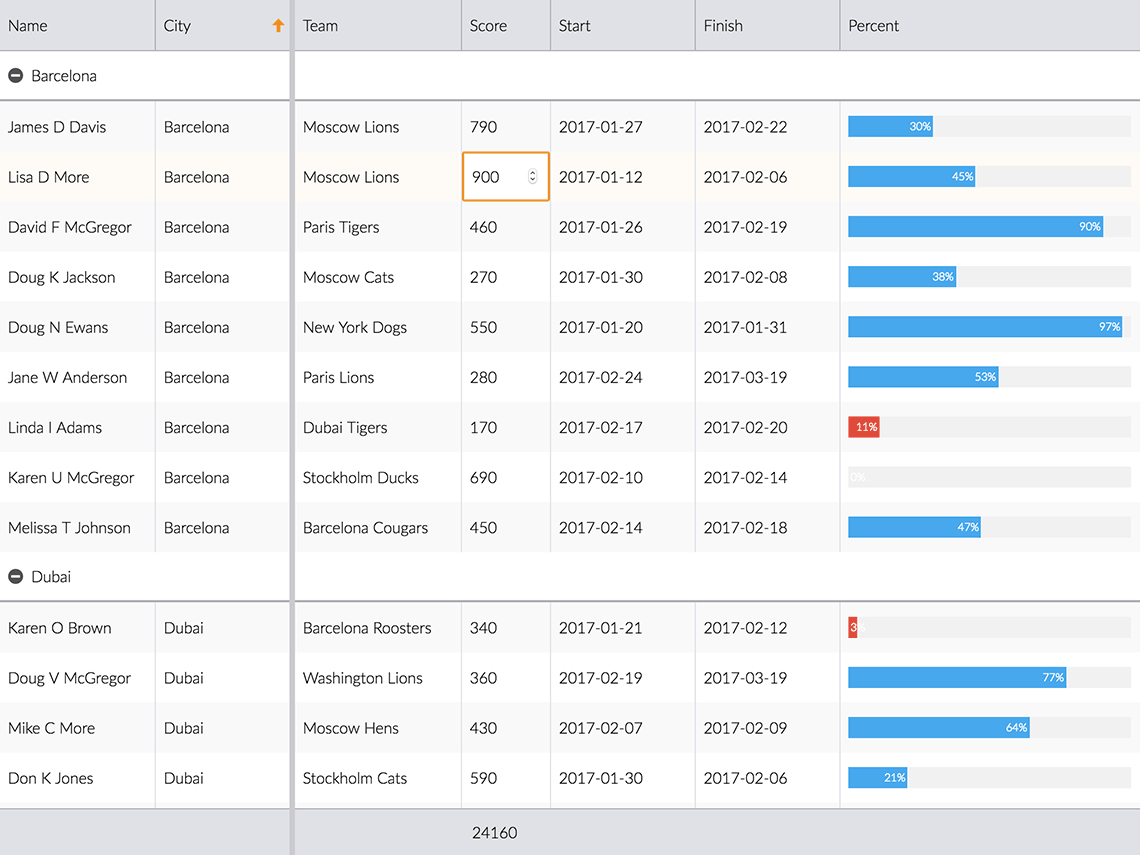 Bryntum Grid utilizes various methods to ensure increased rendering and scrolling performance such as virtual rendering, application of reusable grid elements, and CSS optimizations. The grid can be configured to run properly on different screen sizes. A flexible API enables you to override almost any part of the codebase. By default, all data is loaded in JSON, but it is also possible to use custom data formats. The component is unit tested with the Siesta testing tool.
Check out the documentation page, including API overview and demos on grid features, to become familiar with Bryntum Grid and its functional capabilities in more detail.
Compatible with: React, Vue.js, Angular, Ext JS
Exporting formats: PDF, PNG
Trial version: Bryntum Grid
Price: from $850
DevExtreme Data Grid
DevExtreme Data Grid is a client-side UI widget offered by DevExpress. This grid component is designed to show table data loaded from local and remote sources and enables end-users to quickly find the necessary data and interact with it in many ways. The component allows you to build and display master-detail layouts. Data readability can be optimized via column customizations and data grouping options. Data summaries will make your grids more informative.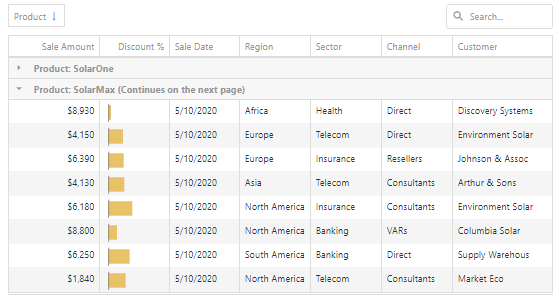 Data tables created with the help of this tool are touch-friendly and adaptable to different screen resolutions. There are five edit modes with built-in validation to make grid content modifications more straightforward and error-free. More flexible data binding is possible thanks to the support for local arrays, JSON files, WebAPI, and OData services. The ThemeBuilder tool will help to create a unique visual design for your grid.
If you want to learn more about this widget and its technical peculiarities, pay attention to the documentation page accompanied with a set of technical demos.
Compatible with: Angular, React, Vue
Exporting formats: Excel
Trial version: DevExtreme Grid
Price: from $499.99 (sold only in a package with other DevExtreme UI components)
DHTMLX Grid
DHTMLX Grid is a lightweight UI widget with a modern default look that allows building feature-rich JavaScript data tables of any complexity with touch support. A rich and simple API of this component makes it easy to specify many additional capabilities for your grid. For instance, you can highlight any specific parts (header, footer, cells with min or max values), align columns, adjust columns' width to their footer, enable/disable tooltips, and apply auto-width.
High performance and a variety of useful features, such as rows' and columns' drag-and-drop, numerous sorting and filtering options, multiselection of cells, frozen columns, multiline text in columns, in-cell editing, dynamic loading, keyboard navigation, etc., ensure a positive and productive user experience. DHTMLX Grid allows presenting any numerical data in the desired way, thanks to the availability of various number formats. Special templates open up a possibility to create custom tooltips containing any HTML content for clarifying grid data. Using multiple event listeners, you can make data tables more interactive. It is possible to load data in tables from local or external sources in various formats (JSON, XML, CSV). Apps based on this JavaScript data table can be quickly and seamlessly complemented with other UI components from DHTMLX Suite with the help of Optimus micro-framework. 
The documentation page contains many step-by-step guides, therefore you won't need much time to start using DHTMLX Grid. Interactive samples help you explore all features of this grid widget, while demo apps show examples of how this product can be applied in real-world scenarios. 
FancyGrid
FancyGrid is a plugin-free JS library for creating grid tables in web apps. The library is designed with a special emphasis on the possibility of including charts in a grid (HighCharts and sparklines columns) and server communication (RESTful, Self-CRUD). FancyGrid also allows enabling a range of essential grid actions such as sizing, sorting, filtering, paging, and grouping. When talking about the look and feel of your data table, you can choose from several built-in themes or create a new one as well as style cells over CSS styles and CSS class names.
The library supports different data variants (Ajax, JSON, Array, nested, etc.) and ways of utilizing them. It also provides several validation types. Taking advantage of the intelligent modules system that automatically identifies and loads all necessary modules, you can significantly reduce the core library size. FancyGrid can be smoothly integrated with a form module (FancyForm). Multiple localization variants make FancyGrid adaptable to different language versions.
FancyGrid documentation, unfortunately, lacks the search option but it still provides a lot of useful info on the library's usage and a gallery of live samples.
Compatible with: Angular, React, Vue.js
Exporting formats: Excel, CSV
Trial version: FancyGrid
Price: from $549
FlexGrid
FlexGrid is a web data grid component with a mobile-first design written in TypeScript. One of 100+ UI controls included is the Wijmo library from GrapeCity. Originally, the component came only with an essential set of grid features such as sorting, grouping, and editing, while more advanced functions are optional. Its interaction behavior is fully based on Excel, to make end-users feel comfortable using this grid from the very beginning. The component allows for utilizing cell templates for popular frameworks with support for declarative markup and binding expressions.

FlexGrid has a small footprint (< 150KB). Thus, you should not worry that it may badly affect the performance of your app. It also makes use of virtual rendering to make your data table faster. Like all Wijmo components, it meets the CSP standard to ensure protection from malicious attacks.
Find more valuable insights about FlexGrid and its capabilities in these materials.
Compatible with: Angular, AngularJS, React, Vue.js, Knockout
Exporting formats: Excel, PDF
Trial version: FlexGrid
Price: from $695 (sold only in a package with other Wijmo UI components)
Handsontable
Handsontable is a JavaScript grid component that can be used for managing and analyzing data in business web apps. It is created to provide a good user experience similar to Excel or Google Sheets. Using this component, you can expand a traditional set of data grid operations with more advanced capabilities, such as multi-column sorting, nested headers, and data summaries. There is also a range of cell types (numeric, day, time, dropdown, password, etc.) and cell-related features.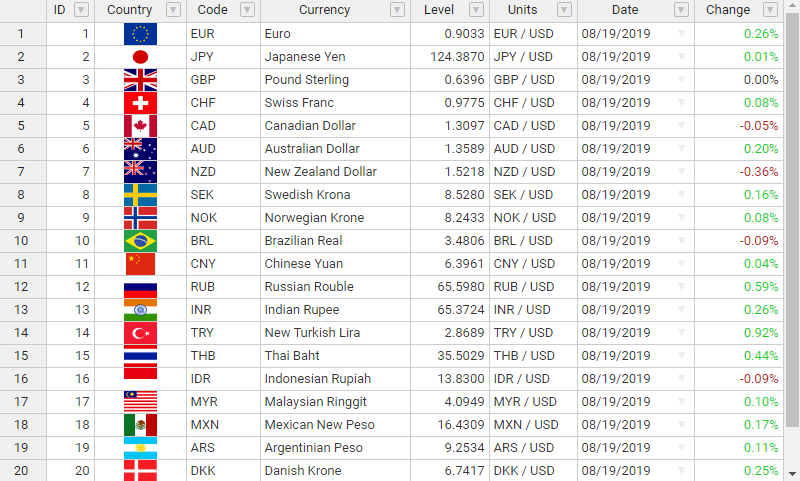 Context menus, comments, spreadsheet icons, and other utilities can be useful as well. You can also add new functionalities by utilizing custom plugins and modify source code to fully adapt it to your needs. Handsontable binds to various data sources via the JSON format and allows you to handle large volumes of records. All the data table content can be accessed with the keyboard alone.
The documentation page contains everything you should know about making the most of this JS component.
Compatible with: React, Angular, Vue.js
Exporting formats: CSV
Trial version: Handsontable
Price: from $790
Syncfusion Grid
Syncfusion Grid is a JavaScript control intended for displaying data in rows and columns in modern web browsers. Being a part of the Essential JS library, this UI grid component provides multiple record selection and editing modes, filtering and grouping capabilities, templates for custom layouts, and aggregation functions. It has a responsive layout and operates on touch screens without extra configuring. The Syncfusion Theme Studio tool will help you to create custom themes for adjusting the data table's appearance to your requirements if five built-in themes are not good enough for your project.

The design is optimized for enhanced performance with the help of row and column virtualization. You can apply various services (RESTful, OData, WCF, JSON) for convenient data binding. Syncfusion promotes the accessibility of its grid control by including keyboard navigation and WAI-ARIA support. Internationalization and localization settings give you the chance to make your grid multilingual.
Online documentation and demo materials are primary learning resources that will help you to work with this grid control in the most efficient manner. 
Compatible with: React, Vue.js, Angular, Blazor
Exporting formats: Excel, PDF, CSV
Trial version: Syncfusion Grid
Price: from $995 (sold only in a package with other controls included in Essential JS)
Webix Grid
Webix Grid is a JavaScript UI data grid widget used for depicting various amounts of data in the form of a scrollable and sortable table. This data management tool is equipped with plenty of data handling features (copy-pasting, paging, selection modes, math operations, etc.) and customization settings. With Webix Grid you can also create tree-like structures and embed small graphs in your table. Full API support simplifies the implementation process of all required functionalities.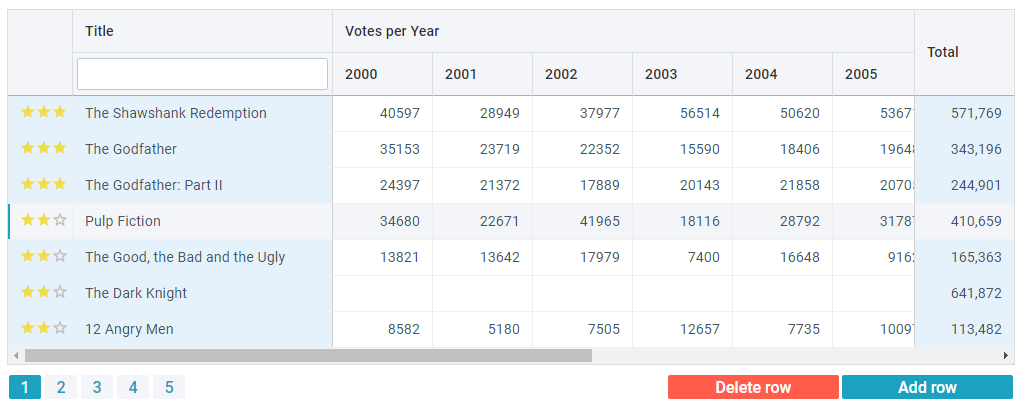 The dynamic mode can be switched on to render data-intensive tables without delays. The widget is ready for touch devices and fully editable, allowing seamless data entry. The correctness of the inserted data is checked with the validation feature. It is possible to utilize different formats (XML, JSON, JsArray, CSV) for specifying data. Custom behavior can be assigned for any activity that takes place in the grid table.
Webix documentation with samples and tutorials will be very helpful if you resolve to apply this widget in your business undertaking.
Compatible with: Angular, React, Vue.js, Backbone
Exporting formats: PDF, PNG, Excel, CSV
Trial version: Webix Grid
Price: from $849 (sold only in a package with other Webix UI widgets)
ZingGrid
ZingGrid is a JavaScript library that enables you to integrate interactive data tables in web apps using the capabilities of ES6 and native web components. It comes with a large collection of features that may come in handy for your project. For instance, you can input static data and update it on demand, perform various calculations, or make use of the built-in CRUD functionality. In addition to well-known grid operations (selecting, filtering, sorting), you can incorporate a context menu, modal dialog, or drill-down to add more interactivity.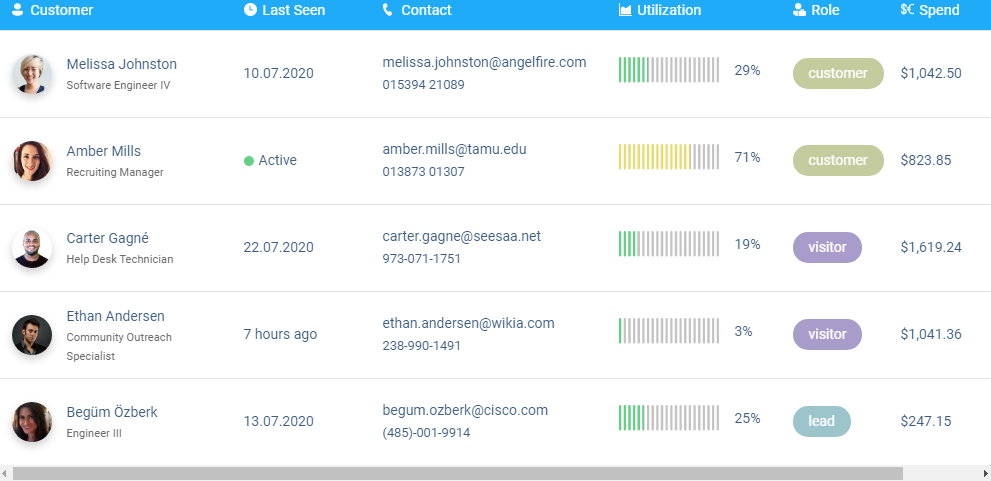 The visual design of the grid is fine-tuned via CSS selectors and CSS variables, or simply by employing predefined themes. Data tables produced with the help of this library are responsive and mobile-friendly by default. End-users with disabilities won't have problems with ZingGrid due to a pack of embedded accessibility features. If it is necessary to make your grid faster, you can resort to infinite scrolling, server paging, or server-side rendering.
ZingGrid documentation will provide you with useful tips on the practical implementation of this component.
Compatible with: React, Vue.js, Angular, Polymer
Exporting formats: CSV
Trial version: ZingGrid
Price: from $300
Final Words 
We have explored ten JavaScript data tables for integrating a grid functionality in your web app. Still can't decide which one suits you better? Let me give you a couple of tips. First of all, you should carefully consider the operating capabilities of each tool and exclude options that have no features which are crucial for your project.
The price is another key factor here. If your project has great financial support, then you can invest in more sophisticated but at the same time expensive grid components such as ag-Grid, Handsontable, or Bryntum. Also take into account that grid components from Syncfusion, Webix, GrapeCity (FlexGrid), and DevExtreme are distributed only with a package of other UI components, you may not want to pay for the things you don't need. DHTMLX Grid, ZingGrid, and FancyGrid seem like solutions with decent feature-sets at reasonable prices.
Before making a final choice, it is also necessary to closely examine the documentation of the most appealing components and make use of their trial versions to see how they work in practice. Choose wisely and good luck in your coding endeavors.
Credit: Source link