Overview of JavaScript Form Widgets
A web form is probably the main communication channel between a user and a web application. It commonly serves for gathering important information from end-users that can trigger updates on the client-side or be stored in the database on the server-side. Poorly designed or confusing forms can cause a lot of inconvenience to end-users and application owners. Therefore, it is necessary to pay serious attention to the proper implementation of forms and their features such as labels, notifications, validation rules, etc.
The task of integrating forms like any other interface elements into web apps can be significantly simplified by utilizing JavaScript UI libraries. Such tools are very popular among programmers, as they help to accelerate the development process and reduce the number of errors in the codebase.
In this article, we will consider form widgets and form-related controls included in popular UI libraries.
DHTMLX Form
DHTMLX Suite provides a range of widgets for seamlessly adding feature-packed UI components to any web project. The list of available solutions includes a cross-browser JavaScript/HTML5 Form. It enables you to use 14 various form controls and group them in the desired way for building forms of any complexity. Apart from standard elements (input fields, checkboxes, action buttons, etc.), your form can contain a file uploader, slider, datepicker, and other useful controls from the Suite package. Predefined validation rules and notification messages ensure that users submit only valid data. Notification messages help to avoid any misconceptions during the form completion. If necessary, you can also disable any form options or hide them.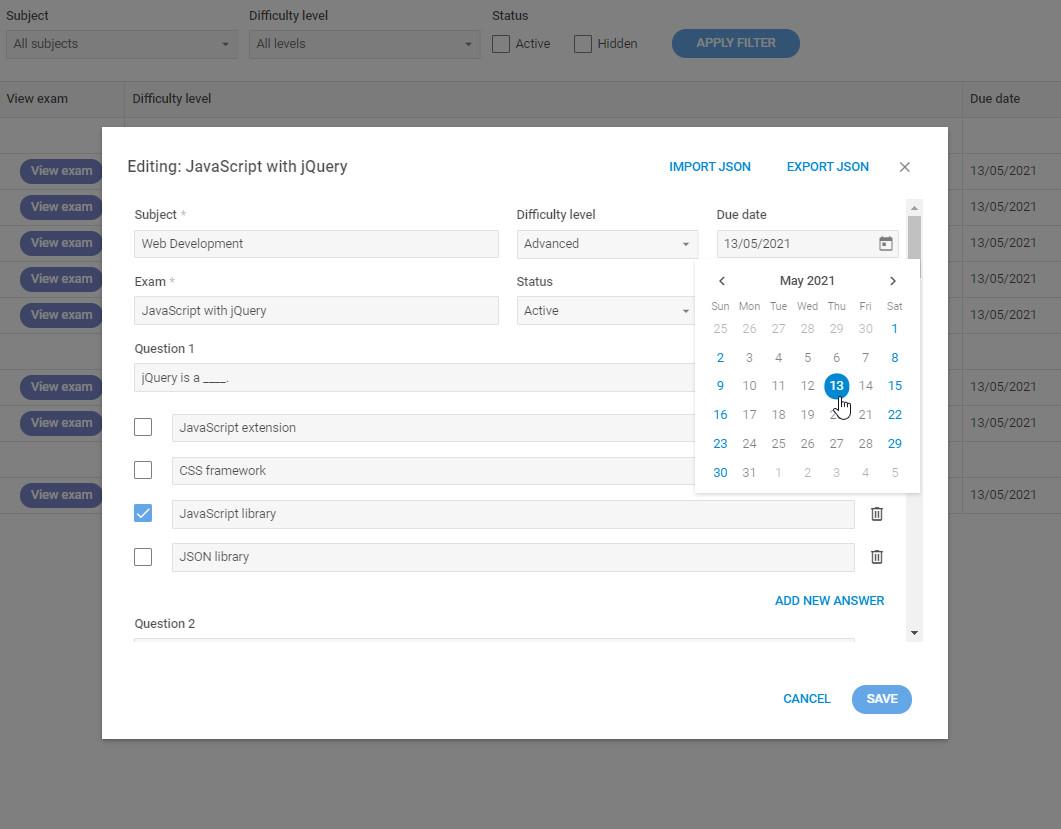 A rich API of DHTMLX Form allows you to customize forms in accordance with your project requirements. For instance, textual data in form labels can be displayed in various languages to be understood by users from different countries. Any styling adjustments are performed via CSS. The initialization process of this widget takes just a few simple steps.
Compatible with: Angular, React, Vue.js
Useful resources: documentation, samples
Webix Form
Webix delivers a collection of UI widgets for creating various parts of a user interface, including forms. The Form widget helps to obtain any kind of information from users and transfer it for further processing with the help of numerous controls and the validation feature. It is possible to set a common configuration for all form controls. If your form should include a particular number of digits/vowels (credit cards, telephone numbers, etc.), you can specify a pattern for formatting inputted data. It is not a problem to disable form elements or switch to the read-only mode.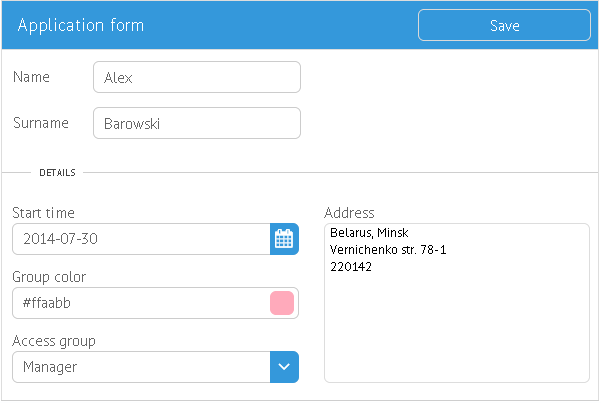 The Form widget can be combined with other Webix components for displaying complex forms. You can separate a big form into logical parts and attach to them text labels using Fieldset and Section components. Another option is to divide a form with the help of tabs and segmented buttons, thereby forming a multiview layout. Webix data widgets (e.g. List) employ the Form as editors. Webix also offers the HTMLForm widget that allows you to upgrade simple HTML forms with the Webix Form API and also use it with other Webix widgets. You can also benefit from using a special Webix tool (Form Builder) for generating forms. 
Compatible with: Angular, React, Vue.js, Backbone
Useful resources: documentation, samples
Kendo UI Form
The Form component is a part of the Kendo UI library. It is intended for generating and managing forms in web applications. This UI tool comes with a number of configuration and customization options to facilitate the implementation process.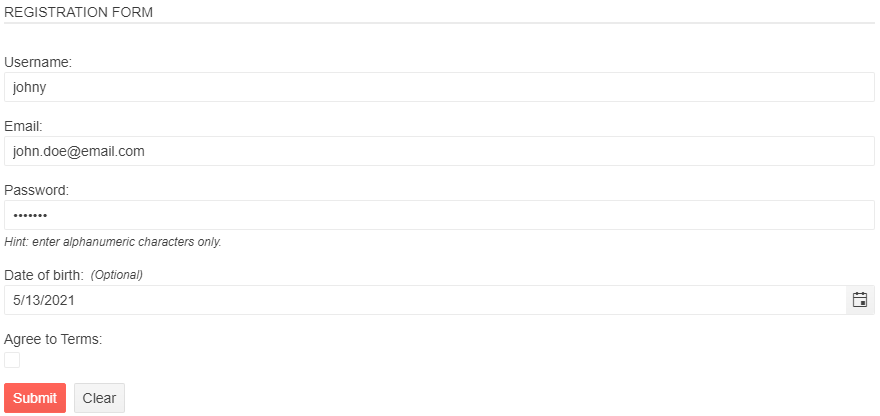 In addition to the default layout, you can apply the grid layout (up to 12 columns) in your form. This option is supported only in modern browsers. Positioning of form elements in a more intuitive manner is achieved with the grouping function. There are two modes for showing form labels (vertical and horizontal). The Kendo form comes with a customizable built-in validator. This important feature is set in action on the submission and can include the validation summary i.e. the list of validation errors. The form component also supports the MVVM pattern and modern accessibility standards.
Compatible with: Angular, React, Vue.js
Useful resources: documentation, samples
DevExtreme Form Layout
DevExtreme Form is a JavaScript UI widget designed by DevExpress as a jQuery plugin. The form's UI is represented as a range of label-editor combinations that correspond to data fields. All form elements can be arranged in three different ways: columns, groups, and tabs. There is also an empty item utilized for adding space between form items. This widget is optimized for displaying on desktops and mobile devices and allows you to predefine the number of form columns displayed on the screen depending on its size. 
Values entered in the form fields are checked before saving thanks to a validation engine. Using this engine, you can set various validation rule types, including custom and server-side validations that can be disabled dynamically. Moreover, it is possible to modify form items and define their visibility status at runtime. It should be noted that such changes cause updates of just altered items without re-rendering of the whole form.
Compatible with: Angular, React, Vue.js
Useful resources: documentation, samples
jqxForm 
jQWidgets is a jQuery-based widget library that helps to address numerous UI development needs, including the creation of data input forms with jqxForm. This widget empowers you to set up an interactive form via JSON configuration. 
The default functionality of jqxForm includes all standard input fields (checkbox, password, dropdown, etc.) that can be complemented with custom input components. It includes several options for aligning input elements and labels (right, left, center). You also have some variants for positioning labels in relation to corresponding input fields. jQWidgets includes many other useful UI tools such as jqxValidator – a customizable plugin for validating user inputs in forms with JavaScript. It can be seamlessly integrated with the Form widget in your web project. 
Compatible with: Angular, React, Vue.js, Blazor, ASP.NET MVC, Web Components
Useful resources: documentation, samples
Ext JS Form Panel (Sencha)
Sencha's Ext JS library also includes a UI tool (named Form Panel) that helps solve the issue of collecting data from end-users in web apps. This component provides a standard container (panel) for standard forms enriched with related functional capabilities implemented with methods and specific functions of Ext JS.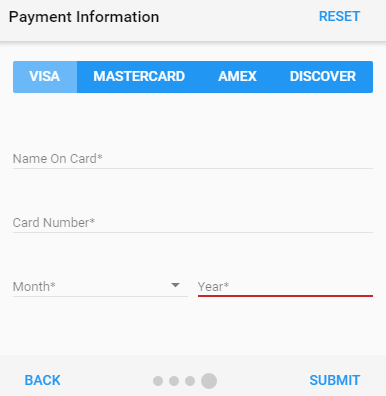 It allows you to choose from multiple predefined types of form fields (date, number, text, time, checkbox, etc.) available out of the box. Any field can be equipped with built-in or custom validation and clarifying error tooltips. Ext JS allows you to apply both MVC and MVVM architectural approaches. Interestingly, Sencha offers two variations of UI toolkits (Classic and Modern). You can also take advantage of special dev tools (Sencha Themer, Sencha Architect, Inspector, etc.) that make it much easier to incorporate forms and other UI components from Ext JS into your web app.
Compatible with: Angular, React, Vue.js
Useful resources: documentation, samples
Syncfusion 
Some JavaScript UI libraries do not include ready-made form components but provide specific controls that can be used for creating forms without any compatibility issues. Syncfusion's Essential JS 2 is one such solution. This JavaScript UI toolkit includes an array of controls with a modular and responsive design. They are dedicated to implementing various UI aspects of your application, including data input.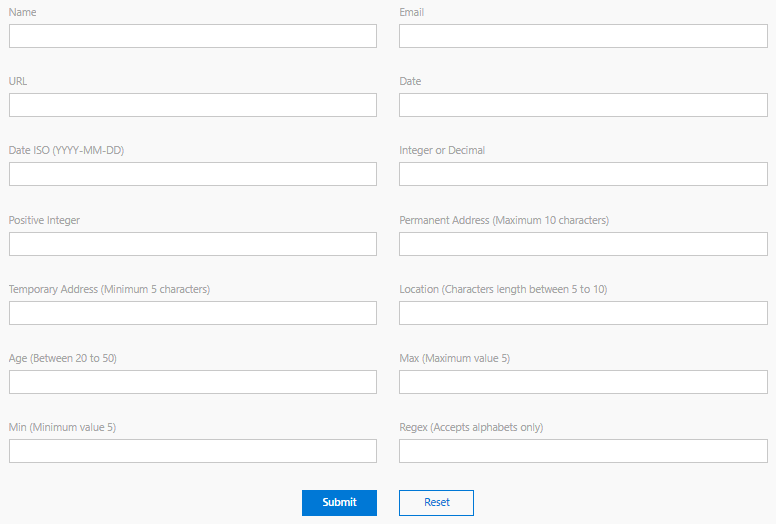 With the aid of Syncfusion input controls, you can put together your own form with all core functionality. The list of form-related controls in Essential JS 2 includes text fields, action buttons, form validation, input mask, file uploader, in-place editor, and many others. 
Compatible with: Angular, React, Vue.js, ASP.NET MVC, ASP.NET Core
Useful resources: documentation, samples
Alternatively to Syncfusion, you can consider Ignite UI and Wijmo libraries that also provide all the necessary components for building forms. 
Final Words
Filling out a form is one of the least favorite things for many web users. Thus, it is important to make this experience as simple as possible when you are working on your own web project. And all the tools highlighted above help to meet this goal with less time and effort. By investing in one of these JavaScript UI libraries, you receive a form and many other UI widgets that can be useful in your coding endeavors.
Credit: Source link