Everthing to prepare for Digital Transformation 2022: Ultimate guide
As we enter the 2020s, it's clear that technology will continue to disrupt all industries, creating unprecedented challenges and opportunities for businesses around the world. While some companies have embraced digital transformation, others have been slower to change. This guide will provide you with the detailed digital transformation guiding principles and tools you need to succeed in the digital age. We'll cover everything from the basics of digital transformation to the latest development trends. With this guide, you'll be able to position your business for success in the years ahead.
Why digital transformation guide is essential for business growth
In today's hyper-competitive business environment, those that embrace digital transformation will be well-positioned to succeed. Digital transformation is a game-changer for large, medium, and small business enterprises. By digitizing operations and processes, businesses can become more agile, efficient, and customer-centric. Here are just a few of the many reasons why digital transformation is so important for businesses: 
Increase Productivity Among Employees
Digital technology has revolutionized the workplace, making it easier than ever for employees to stay connected and productive no matter where they are. Thanks to various digital tools and solutions, workers can now optimize their primary functions both in and out of the office, making employers more productive and facilitating growth.
One way that digital technology has helped optimize workplace efficiency is through automation. For example, some automation tools such as Odoo allow departments like accounting or HR to shift from manual to automated processes. This not only enables employees to be more productive but also frees up leaders to focus on more business opportunities. Additionally, digital technology has made it possible for employees to work remotely, which can help save on costs associated with renting office space.
Better Customer Experience
A study conducted by SAP revealed that a staggering 92% of top entrepreneurs employ extensive digital transformation strategies to enhance and improve customer experience. This just goes to show how important delivering an improved and unmatchable customer experience is for any organization that wants to be successful.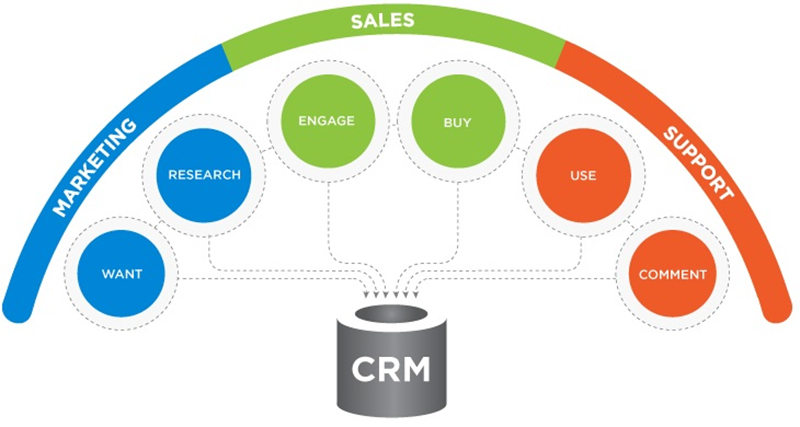 Some digital transformation solutions, such as CRM, can ensure an efficient customer experience by designing and automating customer experiences and building more agile delivery journey transformations. Moreover, it also increases the speed and agility of the insights generated. This is all thanks to the fact that this system puts the customer at the center of everything, thus making sure that their needs and wants are always met.
Enhanced Security And Privacy of Data
Digitization offers a solution to this problem, as it allows companies to create a security architecture that is flexible and can be easily adapted to the changing needs of the workforce. By digitizing their security systems, companies can ensure that their data is safe, regardless of where their employees are working. In addition, digitization makes it possible to remotely manage security settings and updates, making it easier to keep up with the latest threats. As the world of work continues to evolve, digitization will become an essential tool for keeping businesses secure.
Drives Better Decision Making
Big data is becoming increasingly important to businesses across a wide range of industries. Companies are beginning to recognize the potential of big data and are starting to reap the benefits through digital transformation. The digital transformation uses structured and unstructured data to develop personalized and valuable results. This also enables agility and real-time feedback. Businesses can now collect a tremendous amount of data through different streams, the Internet of Things (IoT) being one of them. The more advanced tools are implanted in business operations, the greater the results and reliability they can provide.
Enhance Business Relations
When done right, digital transformation can have a profound impact on an organization, enabling it to become more agile, efficient, and customer-focused. For many companies, digital transformation starts with the adoption of cloud-based enterprise software such as CRM and ERP systems.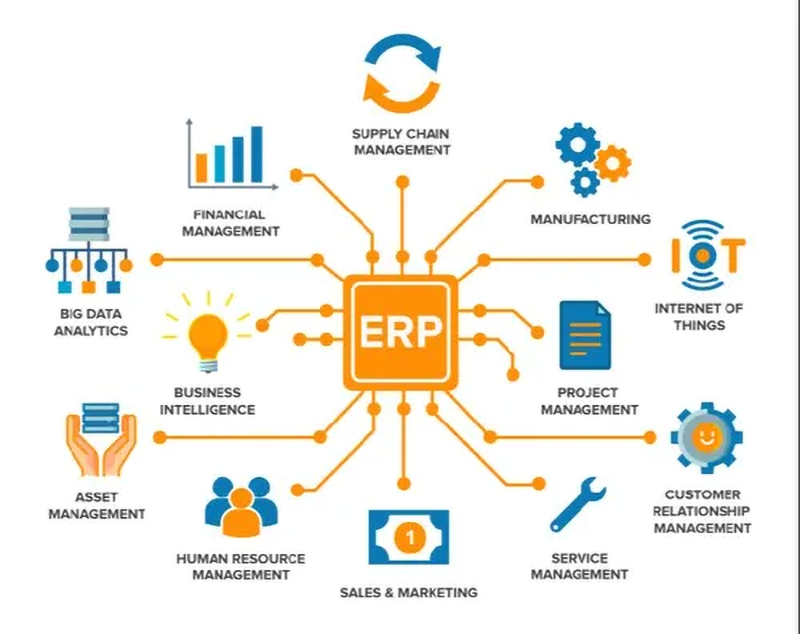 These systems allow businesses to centrally store and manage data, which can then be accessed by authorized users from anywhere in the world. This can greatly improve collaboration between employees and partners, as well as help businesses, keep better track of their operations. In addition, Cloud-based enterprise software often comes with built-in analytics tools that can give organizations valuable insights into their customers and how they interact with their products or services. By harnessing the power of digital technologies, companies can streamline their operations, improve their customer relationships, and gain a competitive edge.
Comprehensive Guide to Digital Transformation
Many organizations are looking to digital transformation as a way to improve performance, but the process can seem daunting. It's important to remember that digital transformation is not an all-or-nothing proposition – there are steps you can take to get started and realize benefits quickly. Below, we'll provide a detailed digital transformation guide on how your organization can get started on digital transformation in 2022.
Define digital transformation for your company
One of the first steps of a digital transformation guide is to develop a clear understanding of what digital transformation is and what it can do for your organization. There's no one-size-fits-all definition of digital transformation, but at its core, it's about using technology to improve processes and achieve goals. This could mean anything from streamlining internal communications to developing new customer-facing applications. It should also take into account your organization's size, industry, and technology capabilities to find the main areas of digital transformation you should focus on. Once you have a clear understanding of what digital transformation is, tailored to your specific goals and objectives, you can begin developing a strategy.
Build a digital transformation roadmap
A digital transformation can help your business remain relevant and achieve its goals. The first step is to develop a comprehensive strategy. Work with stakeholders to understand your business's needs and objectives. Then, create a roadmap that outlines the steps you need to take to reach those goals. Be sure to include a timeline, budget, and digital transformation KPIs so you can track your progress. As you execute your plan, be agile and adaptable. And don't forget to measure your results so you can ensure your digital transformation is successful. With the right approach, you can successfully navigate your digital transformation journey.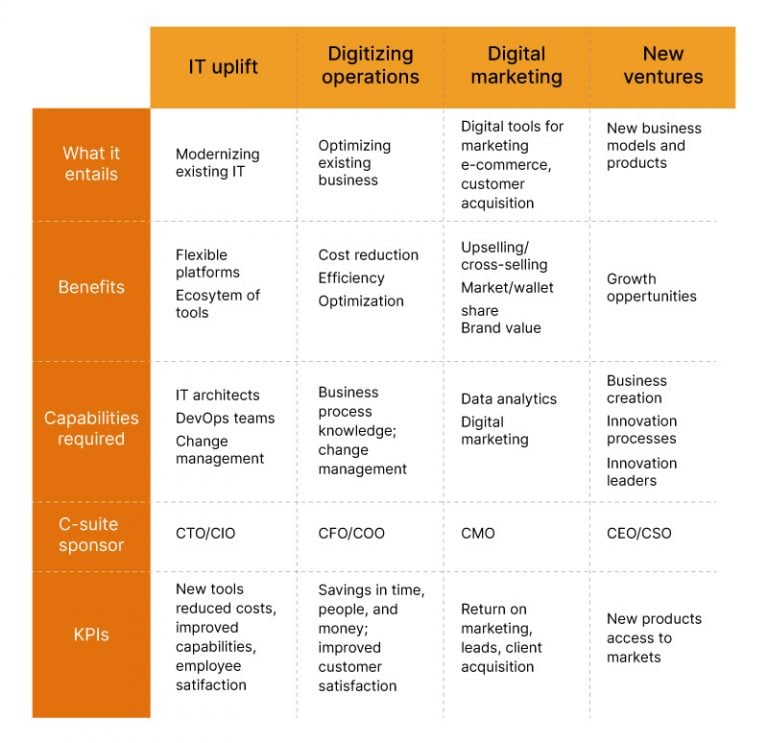 Catch up with Outstanding Trends
Digital transformation is a continuous journey. It's not a single event or milestone that businesses can achieve and then move on from. Instead, it's an ongoing process that requires organizations to continuously adapt and evolve to meet the ever-changing needs of their customers. In order to keep up with the competition, businesses must change and quicken the adoption of cutting-edge technologies. They also need to catch up with outstanding digital transformation trends. By failing to do so, they run the risk of being left behind by more agile and innovative organizations. The following are the top 10 digital transformation trends that will shape business in 2022:
The continued rise of artificial intelligence (AI) and machine learning (ML).
The increasing importance of data analytics.
The growth of the Internet of Things (IoT).
The rise of cloud computing.
The increasing use of robotics and automation.
The growth of digital marketing and eCommerce.
The expansion of social media and mobile applications.
The increase in cyber security threats.
The need for greater agility and flexibility.
The importance of putting the customer first. (CRM)
Overcome the challenge and maximize your revenue
The digital age has transformed the way businesses operate. In order to stay competitive, businesses need to transition to a digital business framework. This can be a challenge, as there are a number of factors that need to be taken into account, such as data management, technology infrastructure, and budget constraints. A deep analysis of your strength can help you overcome the digital transformation challenge and maximize your revenue. For example, if you have a strong customer base in a particular country, you may want to focus on creating a website or mobile app that caters to their needs. Or, if you have a robust technology infrastructure in place, you may want to focus on developing an eCommerce platform.
Moreover, with the right partners in place, your business can overcome the current digital transformation challenge with a specific solution. This is also crucial, as you need to be sure that they have the experience and expertise necessary to help you meet your goals. successful.
Top Digital Transformation Solution that can boost your Sales?
Cybersecurity solutions
As discussion on digital solutions abounds, it's important not to forget cybersecurity. In the rush to adopt new technologies, companies often overlook the importance of securing their solutions. Multi-factor authentication, employee awareness training, password strength standards, and encrypted VPNs are all critical for the company that's trying to rapidly adopt new tech. Without these measures in place, any new solutions will be quickly rendered useless by hackers. By taking the time to secure their digital tools and solutions, companies can ensure that they won't be wasting time when they adopt new technologies.
Customer Relationship Management (CRM) solutions
A CRM can be a powerful tool for businesses. By bringing sales, marketing, and accounting teams together, it can help ensure that customers' needs are met even when they are remote. 
Salesforce, Zoho, Hubspot, and Freshsales are all well-known CRM solutions that can help remote employees maintain high customer care standards no matter where they're working from. An ideal digital CRM solution can pay dividends for a company when it helps them efficiently manage customer relations and improve their bottom line, even during a pandemic. In today's business world, a good CRM can be the difference between success and failure.
Remote project management
With the rise of digital tools, there has been a corresponding increase in the options available for project management software. That's why more and more companies are turning to project management software to help them streamline their workflows and stay on top of progress. 
Programs like Atlassian, Slack, Jira, Trello, and Odoo offer powerful tools for managers to assign tasks, track progress, and stay up-to-date on all the latest developments. This can free up employees from time-consuming meetings and enable them to be more productive. In addition, project management software can also help accelerate the adoption of other digital solutions in a synergistic way.
Cloud storage solutions
In today's business world, the ability to work remotely is increasingly important. Cloud storage solutions such as Google Drive, OneDrive, and DropBox allow employees to access information from anywhere, making it easy to work from home or while traveling. These solutions are also ideal for businesses that need to store large amounts of data, as they can quickly and easily scale up their storage capacity. Additionally, cloud storage solutions are often managed by third parties, which gives businesses the flexibility to build and launch new applications without having to invest in their own infrastructure. 
Collaboration and communication tools
In today's business world, collaboration is more important than ever. With employees working remotely and teams spread out across the globe, it's essential to have a way to store, edit, share, and manage documents. 
That's where collaboration suites come in. In spite of traditional Office apps like Word, Excel, PowerPoint, and Outlook, Odoo is another popular choice, as it offers shared workspaces and communications tools. However, Odoo has the added benefit of being able to track the operations of various teams within a company. This makes it ideal for businesses that need to keep track of sales, marketing, customer service, and more. 
Start Your New Journey 
Companies today are under pressure to digitally transform or risk being left behind. Many companies are still using outdated processes and products that don't take advantage of modern technology. As a result, they're losing customers to companies that are more innovative and efficient. The good news is that it's not too late to start your own digital transformation journey. But it also offers a unique opportunity to view your business through a new lens and explore all the possibilities for change. This is your chance to think about new ways of delivering products and services, and to leverage technology in new and innovative ways. 
It's also an opportunity to create a mindset of innovation and resiliency throughout the organization, opening the door for employees, partners, and advisors to help develop better processes, better products, and better companies. So don't be afraid to take the first steps on your digital transformation journey. Contact us to find the right journey for your business and achieve success in the digital age.
Show More
Hide
Credit: Source link